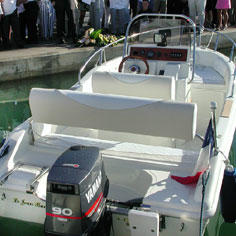 Social and Employment
Place
the Alpes-Maritimes department, France
Sponsor
Denise Roger-Rodes
Grant
10,000 € to the Selection Committee at 2004/07/06
Project leader
Culture et Sport Adapté 06
« My son had a serious genetic disease and died in 1998. We were given no support at the time so I really want to do what I can for others. I think this association does excellent work. »

Denise Roger-Rodes
In 1983, two sports enthusiasts, one of whom was specialised in working with the mentally handicapped, set up an association called Culture et sport adapté 06 in order to help people with mental handicaps or behavioural disorders to take part in physical and sporting activities as a leisure pursuit or in competition. Membership is open to children and adults. The association met with immediate success. Some of the sportsmen and sportswomen trained at Acsa have stood on the highest steps of French and European podiums. By 2004, it had grown to 203 members aged 5 to 50 living in 23 communes of the Alpes-Maritimes region.
A new boat for improved safety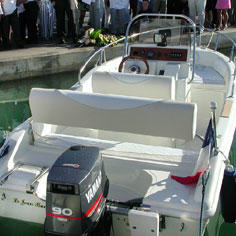 For watersports (fishing, waterskiing, sailing), the association works out of two training facilities in Nice and Antibe. For the past three years it has relied heavily on a rubber dinghy lent by an association member. However, for safety reasons, it was decided that a new properly equipped solid-hull boat would be required.
The Caisse d'Epargne, and the Regional and General Councils have decided to assist this purchase and so give a helping hand to sporting enthusiasts who enjoy taking to the water. Thanks to this kind of activity, they are able to regain self-confidence and achieve a degree of autonomy for the first time. Some are eventually able to get around on a scooter or public transport which would have been unthinkable previously.