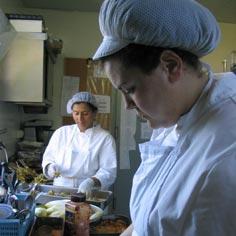 Social and Employment
Place
Saint-Denis, France
Sponsor
Delphine Drouaud
Grant(s)
20,000 € to the Selection Committee at 2004/11/30
Project leader
Société coopérative Femmes actives services
« This team's motivation and energy has been essential to the success of the operation and to the structure's economic viability. We will support their activity by calling upon them to cater receptions for new employees. »

Delphine Drouaud
They don't have degrees, they've never worked in France, and some don't even speak the language. However, they have all found work in the cooperative company Femmes actives services. Since 1998, this cooperative has helped women excluded from the job market to reintegrate: it provides food services and catering to individuals and authorities in Seine-Saint-Denis. Its nine-person team has six integration contract employees, but its latest objective is to hold onto these positions and create new ones. The only way of doing this is to improve and develop its services while making its name known on a broader scale.
Quality charter
To do so, the cooperative implemented a quality system put into writing in a charter. A complementary employee training plan was launched and the company's work methods were revamped.
For example, Femmes actives services decided to improve order management, for which it needs computers, and would like to perfect its delivery procedures. Today, the lack of adequate equipment makes it impossible to take on very large buffet or cocktail receptions. An insulated truck would make larger deliveries of various dishes possible in the complete respect of the hot and cold chains. Through its 20,000 euro commitment, the Veolia foundation will help the cooperative purchase this truck.