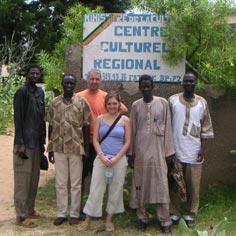 Social and Employment
Place
Regions of Fatick and Tambacounda, Senegal
Sponsor
Carine Bourny
Grant(s)
€12,000 to the Selection Committee at 2005/04/05
  Project leader Place des fêtes
Each year throughout the world between 1.5 and 2.7 million people die as a result of a malaria attack, more than 90% of them in sub-Saharan Africa, where it is the main cause of death. This disease kills an African child under five years old every 30 seconds. Medical research against malaria gets little in the way of funding — less than AIDS — and existing treatments are too costly for most of the people in the countries where it is prevalent.
In the face of this problem, an association called Place des Fêtes decided to raise awareness amongst rural Africans of the ways they can reduce the risks of contamination and protect themselves effectively through simple acts they can perform daily and for free. To promote the success of this preventive campaign, it chose an appealing mode of communication: the theatre.
 
Getting people involved
The show has received the support of the region's cultural centres.
"Didn't see no Mala?" (in French, "Palu, pas vu?") is a grass-roots theatrical show that will play in the regions of Fatick and Tambacounda in Senegal. It has been designed in partnership with many advisers, so as to properly meet the needs of the local people: Senegalese doctors from the Dakar hospital, French colleagues who know the region well and the local association to make the connection with local health, education and cultural organisations.
After each production, the audience is asked to react to what they have seen and act out certain scenes, so as to emphasise positive behaviour.
The experiment will also be filmed, which will make it possible to produce a documentary that will be distributed later in Europe. The Veolia foundation is assisting this unique project with a grant of €12,000, alongside the Fondation de France and the Area Council of the Ile de France.