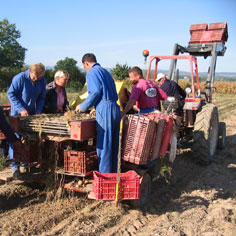 Social and Employment
Project leader
Esat
Place
Bussy-Albieux, France
Sponsor
Jean-Claude La Marra
Grant(s)
25 000 € to the Selection Committee at 2007/10/02
"Expanding the capacity to accommodate handicapped adults for work is in itself a laudable proposition. In addition, the inclusion of the "renewable energies" component throughout the renovation adds a further dimension to the project: this will help to promote a "sustainable development" label with the clientele."
Jean-Claude La Marra
At the "Colombier la Blégnière" in Bussy-Albieux (42), seventy mentally or psychically challenged persons run a farm not quite like any other. This ESAT (Établissement et service d'aide par le travail) is a medico-social body which, for more than 20 years, has been accompanying and supervising persons unable to work outside a protected setting. Their activities in the farm enable them to recover a balance between working life and social life. The two 25-hectare farms produce vegetables, cereals, flowers, and also accommodate a chicken farm.
Renovation and extension
Today, the "Colombier la Blégnière" needs to be rejuvenated. The main lines of the project include the refurbishing of the premises (solar panels for heating and hot water), construction of a shed, a preserves unit, and a compost area. It was decided to install renewable energies to foster awareness of environmental conservation. This comprehensive program will also serve to employ another ten workers and will undeniably improve the working conditions of the seniors.