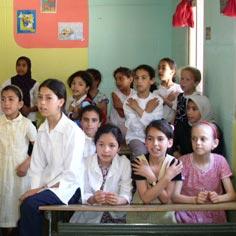 Humanitarian and Development
Place
The Tangier region, Morocco
Parrain
Thierry Vandevelde et Olivier Gilbert
Grant(s)
415,000 € over three years to the Board of Administration at 2004/12/07
Project leader
Unicef Morocco
« This is a community project which is already a success. »

Olivier Gilbert et Thierry Vandevelde
In Morocco, why do so many children, especially young girls, drop out of school before completing their studies? The answer: the lack of facilities. This fact emerged from a survey carried out at the beginning of the decade under the aegis of the Moroccan government and UNICEF in schools in under privileged neighborhoods around Tangier. In these districts, barely half of the children were enrolled in school and only half the population could read and write, with four out of five women being illiterate.
A major project
Remedying this problem required resources and skills. From France, the Greater Lyons Community and the Veolia foundation joined forces with UNICEF, the Moroccan Ministry of Education, nonprofit organizations and other companies such as Amendis, to conduct a wide-ranging project.
The project, initiated in 2003, included a highly technical component.
Various works were carried out in each school after detailed inspection: connection to the public water, wastewater and electricity systems and installation or renovation of toilet blocks. The work was carried out by local companies selected after a call for tender for each school. It was monitored by Amendis and a Veoliaforce expert.
In addition, a daily program was conducted jointly in the schools, with local authorities, the Moroccan Ministry of Education, UNICEF and the nonprofit organization Al-Barzakh, to raise the awareness of all participants - students and teachers but also parents, maintenance employees and local officials- of the importance of hygiene to health.
Improved conditions in more than 50 schools
Initially intended to spread over three years (2003-2006), to benefit some thirty schools, the partnership was extended through 2009, to cover more than fifty institutions. Hence the overall picture is highly positive: 296 toilets and 152 washbasins have been built or renovated for the students, and 58 toilets for the teachers. More than 30 new connections provide access to drinking water, wastewater and electricity networks. According to UNICEF and the project leaders, 50,000 young persons now enjoy access to decent amenities and have learned about the importance of hygiene.
Result: In the province of Tanger-Asilah, the school dropout rate for girls dropped from 5.1% in 2002-2003 to 0.9% in 2006.
 
---
Other project supported
 
Child Friendly Schools
Grant : Humanitarian and Development
Country : Moldavia
Endowment : 2009/12/01
Renovation of two pilot schools as part of the Child Friendly Schools program.