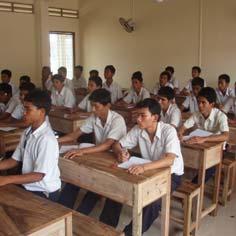 Social and Employment
Place
Phnom Penh, Cambodia
Sponsor
Etienne Denis
Grant(s)
48 000 € to the Selection Committee at 2007/04/03

  Project leader Pour un Sourire d'Enfant
«  As a mother of two children, every day I am able to see just how much a sense of security can help children develop. There are no limits to what can be achieved with children which is why it is so important to provide them with an education and to teach them about hygiene, especially in an environment as hazardous and polluted as a rubbish dump.  »

Agnès Cossolini
Home for children, accommodation, school attendance, vocational training... the association Pour un sourire d'enfant (PSE), founded in 1993, has become an unavoidable presence at Stung Mean Chey. In this suburb of Phnom Penh, it has already helped more than 5400 young boys and girls. And nearly 15% of them now take vocational training in one of the structures that it has set up.
Many months ago, PSE identified an economic sector with exponential growth, for which it had offered no particular training: building. After having sounded the market, it went on to propose qualifications to young Cambodians in electricity, plumbing, painting and tiling. And on land it already owned, the association plans to construct a building to house this new school.
Two years to train young professionals
The school curriculum set by PSE has many phases: four months of pretraining, training modules for each specialization, and a period in a company. These six weeks of field experience provide the transition between each of the two years of training. The thirty-six students accepted can hope to reach the level of journeyman, or even become team leaders. The Veolia foundation, which had already accompanied the creation of the first school centers, is consolidating its commitment this year with a grant of 48 000 euros, so that the association can complete the construction of this new training school. The aim is to take in the first students for the 2007-2008 school year.