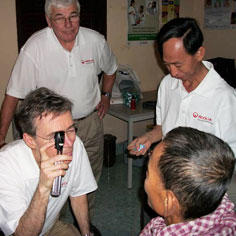 Social and Employment
Place
Banteay Meanchey, Cambodia
Sponsor
John Greene
Grant(s)
€15,000 to the Selection Committee at 2011/01/18
Project leader
"I passionately want to help the needy people of Cambodia. The last 30 years of war have left the country desperately poor. 40% of its 11 million inhabitants live on less than US$10 per month.
The health needs are a top priority and demand special and immediate attention. The chief mission of the Cambodian Eye Project is to eradicate curable blindness by involving the Cambodian ophthalmological staff in a sustainable nationwide program of eye care and equipment. Even though Cambodia has started training ophthalmologists, it still has a tremendous need for equipment and installations so that these specialists can exercise their skills."

John Greene
Devastated during the Khmer Rouge regime, the Cambodian province of Banteay Meanchey, on the border with Thailand, in the northwest, happens to be one of the poorest in the country. 95% of the population are peasants and many of the villagers have to survive on less than $US10 per month. In this context, access to health care is obviously more than problematic for the vast majority of the population.
Access to ophthalmological treatment in particular is impossible for virtually all the inhabitants, even though many of them suffer from severely disabling diseases. Cataract (opacification of the crystalline lens which ultimately causes blindness) affects many aging persons, although it can be treated easily.
The Center for Eye Research and Education (CERE), a nonprofit association, was founded in 1998 by ophthalmologists of Boston (United States) to deal specifically with this type of situation. It is active in Thailand, Bhutan, Central America and Cambodia.
In the province of Banteay Meanchey, it thus decided to actively support the local hospital, which is keen to invest among the patients of the region, but cruelly lacks the indispensable medical facilities.
Operating about 500 persons per year
Since ophthalmological medical instruments are expensive, it has become necessary to seek help from supportive donors. This is where the Veolia Foundation has decided to pitch in. Its grant will go toward purchasing a YAG (laser eye surgery unit). Thus reinforced, Dr. Barang's team plans to operate and save about 500 people per year from blindness.