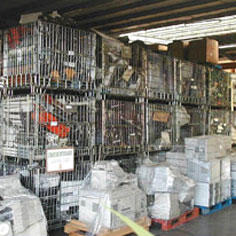 Social and Employment
Project leader
AIP REFON
Place
Vernou-La-Celle, France
Sponsor
Arnaud Humbert-Droz
Grant(s)
17 000 € to the Selection Committee at 2007/07/03
"Triade has been a partner of AIP REFON for years. In the south of the Seine-et-Marne district, we send it WEEE collection assignments: we actually consider that integration is an opportunity to provide simple jobs to persons in dire need. In addition to collection, we have suggested taking charge of the screen treatment and dismantling operations, considering that these jobs are truly consistent with our long range industrial ambitions."
Arnaud Humbert-Droz
Since 2003, AIP REFON (Association d'Insertion Professionnelle de la Région de Fontainebleau) has signed the spate of professional integration contracts for persons in difficulty, thanks to the development of niche activities in the field of the collection and treatment of household waste. Installation of individual composting machines, bulky waste collection by a simple phone call (already aided by the Foundation in 2005), collection of spent batteries in the town halls, etc. AIP REFON has diversified and now focuses on the collection of WEEE. Since 2006, it has been working in this area with the two household waste associations of SMITOM (67 communes around Vaux-le-Pénil) and SIRMOTOM (40 communes around Montereau).
Four New Workforce Integration Jobs
AIP REFON plans to install a recovery shop at its Vernou-La-Celle site, followed by dismantling the screens recovered from the hardware collected by SMITOM and SIRMONTOM. In the medium term, this new development should help to recruit a full-time team leader and create four additional integration jobs.
AIP REFON turned to the Foundation once again to help it set up this new project: the dismantling shop requires specific arrangements for the available premises - particularly air conditioning - and the workstations must be equipped with ergonomic tables provided with a weighing platform, with appropriate lifting tools. Besides, the association plans to buy two utility vehicles and will have to undertake civil work to facilitate the access of these machines to the site.
The new grant from the Veolia foundation will serve to finance these investments. Thanks to them, and by relying on the partnership established and consolidated for several years with Triade Electronic (subsidiary of Veolia Propreté specialized in WEEE treatment), AIP REFON hopes to propose its new offer to the whole Paris region shortly.
*WEEE: Waste Electrical and Electronic Equipment