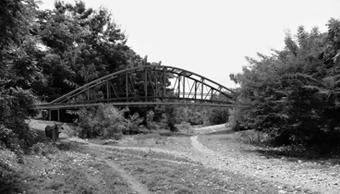 Humanitarian and Development
Place
Ganthier, Fonble et Petite-rivière de Nippes, Haiti
Sponsor
Patrick Trémège
Grant
50 000 € to the Selection Committee at 2009/09/29
Project leader
Noria
"The involvement of Noria in setting up its projects has been considerable in recent years, and their very complete files demonstrate this adequately.
These facilities will directly concern about 45 000 persons, for whom access to school, to care, to markets and to other essential services, will be radically transformed."

Patrick Trémège
Since 2005, the association Noria has been getting together technicians, architects and engineers to have them create lightweight steel structures to enable the populations of certain enclaved rural villages in poor countries to move around.
After a number of experiments, Noria is initiating a project in support of the communes in Haiti. For several decades, the island has suffered a difficult economic situation, due, among other causes, to a series of natural disasters which struck the region.
Results? Rural areas where nothing has been maintained for ages. Few if any roads and bridges; impassible roads, rivers practically impossible to cross in the high water season.Noria's project calls for the construction of twenty five lightweight bridges and footbridges to open up the area. The first phase concerns a bridge for Ganthier (population 20 000 inhabitants) and two footbridges for pedestrians and light vehicles at Nippes and Fonbleu (population 25 000).
Access to health and to economic trade
Each structure has been built to take account of the local conditions (soil, climate, very low budgets, limited maintenance, etc.). Many communities of the region need these facilities. The studies were carried out in line with the production capacities of the "school workshops" of Camp Perrin, the only local cooperative firm capable of fabricating the structures. Preparatory studies were carried out with a Haitian association specialized in agricultural equipment.
This first phase will serve to test the projects in real conditions and to create standard bridges that are easy to reproduce. These models will be provided to the Territorial Authorities, international NGOs and financial backers to satisfy their needs rapidly for emergency and development infrastructures. Operations will be launched as soon as the funding is complete, since the feasibility studies are already done.
The schoolchildren, persons who need care, as well as agriculture producers wishing to sell their harvests, will find their living conditions completely changed.