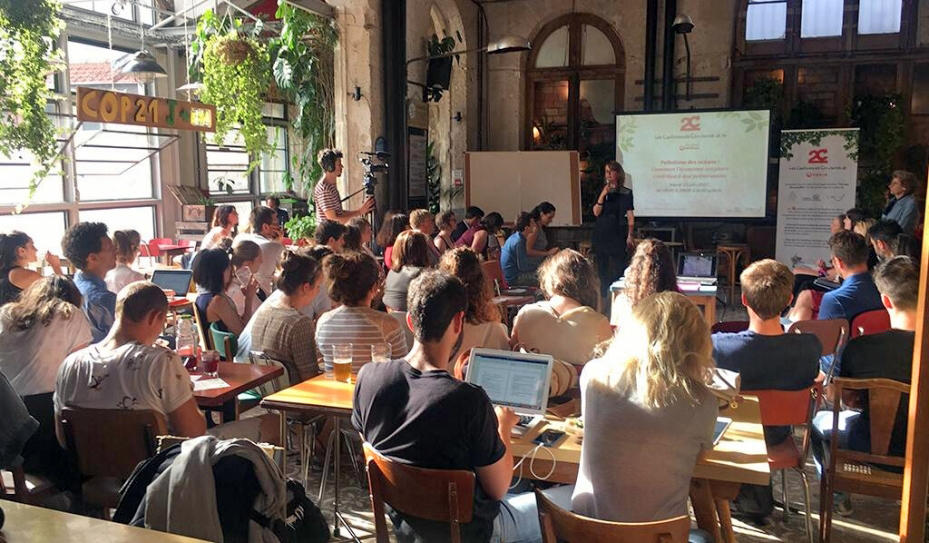 Environment & biodiversity
Location:
Paris (France)
Sponsor:
Fanny Demulier
Grants:
30 000 € at the Committee meeting on 04/04/2016
30 000 € le 23/02/2017
60 000 € at the Committee meeting on 25/10/2017
22 500 € at the Committee meeting on 28/11/2018
20 000 € at the Committee meeting on 21/10/2019
Project Owner
Association des Amis Recycleurs (Recyclers' Friendship Society)
Café and self-service restaurant, urban farm, collaborative repair workshop, and resource and learning center all at once, the REcyclerie is a multiple eco-responsibility project. Opened on the premises of the former Ornano station of Paris's old Petite Ceinture line in June 2014, it brings together various audiences (students, start-ups, communities, NGOs, artists, etc.) and organizes events, such as the REcyclerie's Christmas Market, Emmaüs's sale by the kilo, a bike tour around the Petite Ceinture line, and a number of conferences.
"Europe of Possibilities" in 2016
In 2016, with the "Europe of Possibilities" program, supported by the Veolia Foundation as part of its mission to raise awareness and educate about protecting the environment, the
REcyclerie opened up to the sustainable alternatives implemented by our European neighbors. Every month, the Management proposed to look at a country or city to develop a think tank and share its discoveries with the public. Prestigious personalities were invited to share a positive experience during workshops, meetings, evenings, breakfasts, and conferences. This led to the development of tools (local currency, educational tools), citizen movements (solidarity, sharing, action, network), locations (urban farm, artistic wasteland, shared space), and "green business" initiatives (digital tool, start-up, entrepreneur, new business models).
Among the events proposed, Circular Conferences (2C) were regularly organized. The aim was to bring together a network of students to committed to understanding the keys to more responsible development through the circular economy. In this perspective, the Foundation worked with several partners (the Ellen MacArthur Foundation, the Ecole des Ponts, the Institut de l'Économie Circulaire, and CliMATES association) to address the topic in an educational manner inciting curiosity and learn about the extraction of precious metals from London's street dust, understand how coffee grounds can produce steam and reduce a roaster's natural gas consumption, observe that an olympic pool in Marseille can be heated while emitting less CO2. There was no lack of topics!
"ECOptimists in the field" in 2017
In 2017, the program called "ECOptimists in the field" is based on an optimistic vision of ecology and sustainable development: solutions that are within the grasp of everyone exist to build a more humane and sustainable society together. Each month, from February to December, one theme is explored through recurring events: debates to identify problems, workshops to get involved, demonstration of an innovation as a practical solution, 2C conference on the circular economy for students, etc. The aim is to show that eco-responsibility is a shared concern.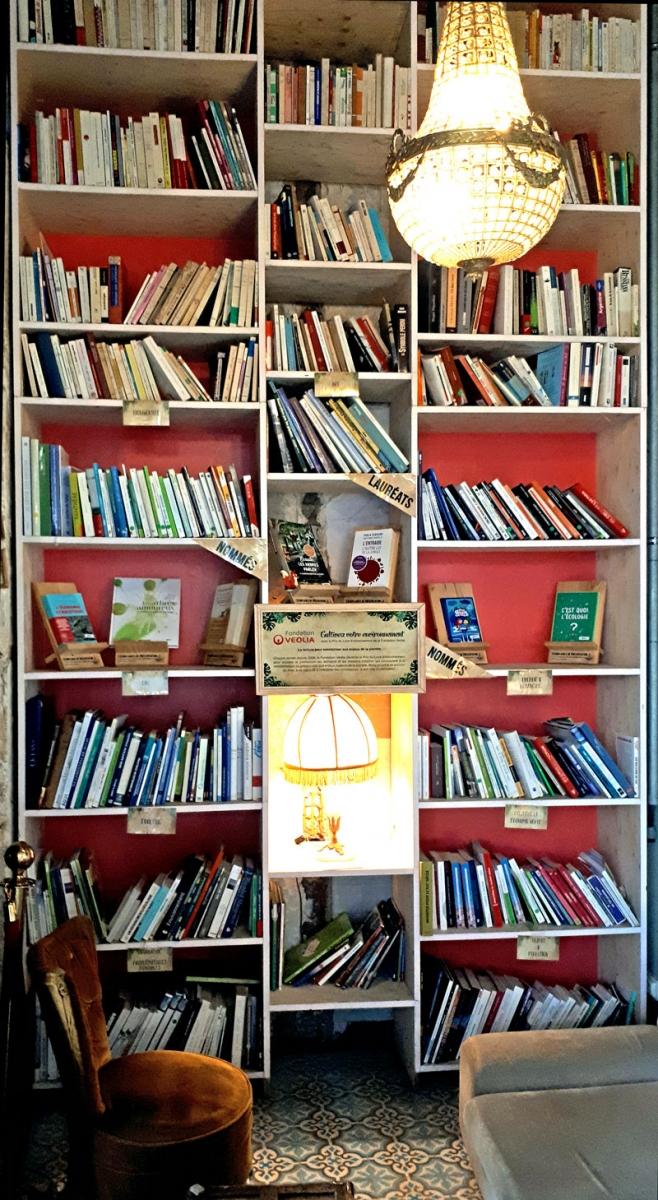 "4 challenges for 4 seasons" in 2018
In 2018, the REcyclerie wishes to anchor its conferences in its relationship to time and nature as far as possible while displaying its desire for change and action to its visitors. As such, it implemented, again with the Veolia Foundation's support, a program on the theme "4 challenges for 4 seasons at the Recyclerie" in January.
Conferences will no longer be monthly but will take on a seasonal frequency. The schedule will highlight the specificities of each season with a change of visual atmosphere through decorations corresponding to the coming season: opening of spaces such as the dock bar, change in the style guide of the station's signs, change of background music, food made with fruit and vegetables in season, etc.
Each season, the REcyclerie will offer the public an opportunity to experiment, question, and provide solutions through inspiring meetings, fun activities, and simple implementation tools: party, coaching, quiz night, online tutorial, collaborative project, "eco" cooking workshop, trading party, community actions, big debates, lunches with inspiring personalities, and even circular conferences. The four seasons of the REcyclerie will offer reflection, sharing, and the desire to do better, together, and for all.
The 4Rs in 2019
In 2019, the REcyclerie is developing a new theme around the circular economy and the "4Rs". These four successive actions - Rethink, Reduce, Repair, Recycle - should enable us to move towards a healthier, fairer and more sustainable world. Combined with the circular economy, they are a lever to reduce waste, better manage resources and expect more committed citizens for a reduced environmental footprint.
The REcyclerie translates this ambition into a daily programme and the continuation of the 2C Conferences around a calendar of themes: REthinking our lifestyles and REverting tomorrow's world from January to March; REducing our waste and REplanting the city from April to June; REpairing everything and (self) RErestoring with taste from July to September; REcycling our waste and REvolving our ways of thinking from October to December. The Veolia Foundation shares this ambition with the REcyclerie.
"Year Zero" in 2020
To mark the beginning of the new decade, in 2020 La Recyclerie is determined to start from scratch, a starting point for discussions on the ecological transition. This programme will enable us to shape a new tomorrow in ecological, economic and social terms, for a simple and virtuous ecological transition.
The theme will be developed throughout the year in three phases each lasting three months:
January to March: "Zero damage", to preserve our environment and reinvent our cities for our well-being;
April to June: "Zero distance", to stop running and get closer to each other;
September to November: "Zero waste", to change our production and consumption.