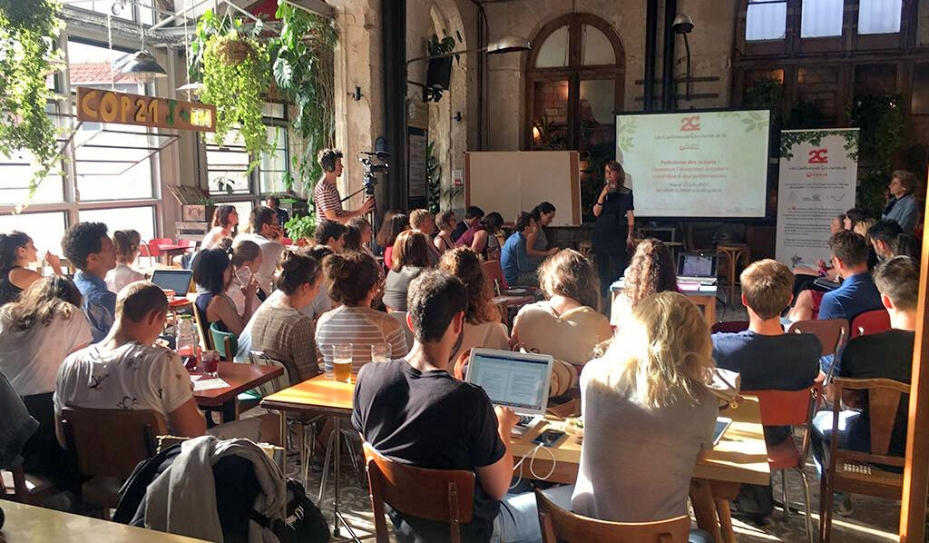 Environment & biodiversity
Location:
Paris (France)
Sponsor:
Fanny Demulier
Grants:
30 000 € at the Committee meeting on 04/04/2016
30 000 € le 23/02/2017
60 000 € at the Committee meeting on 25/10/2017
22 500 € at the Committee meeting on 28/11/2018
20 000 € at the Committee meeting on 21/10/2019
22 500 € at the Committee meeting on 01/04/2021
15 000 € at the Committee meeting on 06/04/2022
10 000 € at the Committee meeting on 29/03/2023
Project Owner
Association des Amis Recycleurs (Recyclers' Friendship Society)
All at once a cafe/canteen, urban farm, collaborative repair workshop and resource and learning centre, REcyclerie is a many‑faceted project focusing on eco-responsibility. Opened in Paris in June 2014 on the premises of the former Boulevard Ornano station in the Inner Ring, it brings together various visitors (students, start-ups, communities, NGOs, artists, etc.) and organizes events such as the REcyclerie Christmas Market, the Emmaüs sale by the kilo, a cycle route on the Inner Ring, as well as numerous conferences.
"Europe of Possibilities" in 2016
In 2016, with the "A Europe of possibles" programme, supported by the Veolia Foundation as part of its action to raise awareness and educate the public on matters of environmental protection, REcyclerie opened itself up to the sustainable alternatives of our European neighbours. Each month, the management team of the location suggested exploring a country or a city to create a real laboratory of ideas and share its findings with the public. It accomplished this through workshops, meetings, evenings, breakfasts or conferences, and prominent public figures were invited to share a positive experience; this was thus enhanced through schemes (local currency, educational tools), grass roots movements (solidarity, sharing, action, network), locations (urban farm, artistic wasteland, shared space) or even "green business" initiatives (digital tool , start-up, entrepreneur, new business models).
Among the possible events, circular conferences (2C) were regularly organized. The aim was to integrate a network of committed students to understand the keys to more responsible development through the circular economy. With this in mind, the Foundation relied on several partners (the Ellen MacArthur Foundation, the Ecole des Ponts, the Institute of Circular Economy and the network of young Climates) to tackle the topic with methodology and curiosity: Discover the extraction of precious metals from street dust in London, understand how coffee grounds can produce steam and reduce the roaster's natural gas consumption, see how a swimming pool of champions in Marseille can be heated by emitting less CO2, etc. There was no shortage of topics!
"ECOptimists in the field" in 2017
In 2017, the programme, known as "The ECOptimists in the countryside", focused on an optimistic vision of ecology and sustainable development; solutions exist, within everyone's reach, to build together a more humane and sustainable society. Each month, from February to December, a topic was explored through recurring meetings: discussions to identify the issues, hands on workshops, demonstrations of innovation as a possible solution, 2C conferences on the circular economy for students, etc. The aim was to demonstrate that eco-responsibility is everyone's business.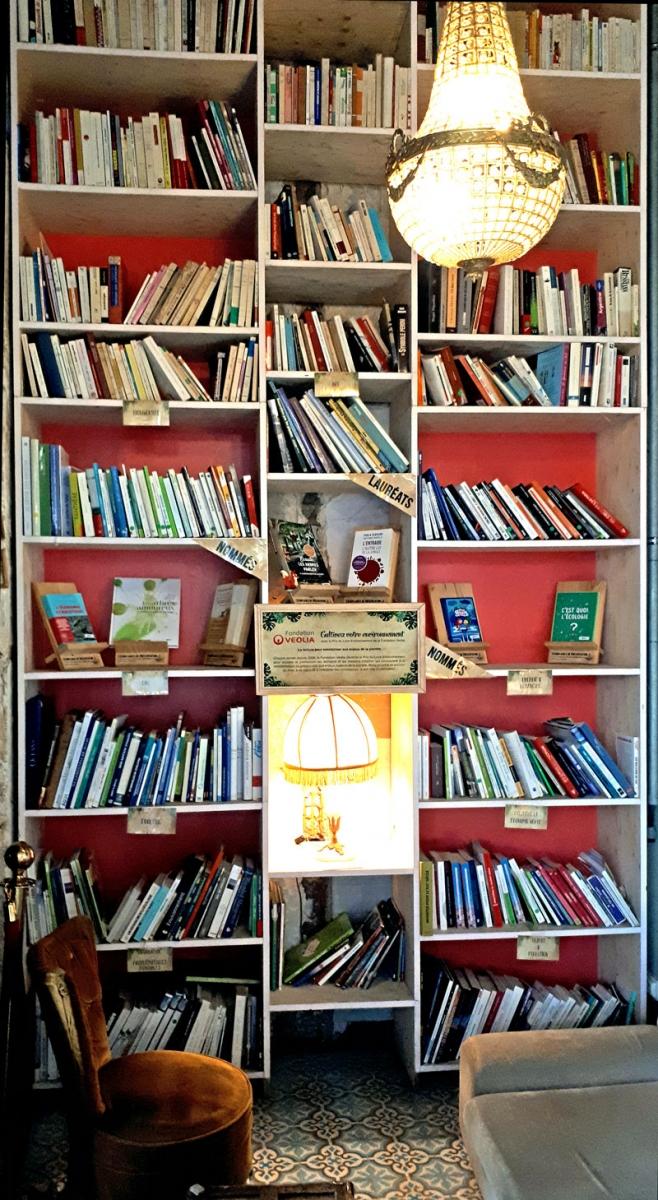 "4 challenges for 4 seasons" in 2018
In 2018, REcyclerie wanted to anchor its conferences as well as possible in its relationship to time and nature, while showing its desire for change and actions for its visitors. To this end, also with the support of the Veolia Foundation, in January 2018 it set up the "4 challenges for 4 seasons at REcyclerie" programme.
Now adopting a seasonal pace - that of nature - the conference topics enhanced the specificities of each season with a change of visual environment marked by a location decor most suited to the season: opening up of spaces such as platform bars, changing the graphical charter of the station panels, change of background music, seasonal fruit  and vegetable based cuisine, etc.
REcyclerie thus offered the public the chance to try out, question and pass on solutions through inspiring gatherings, entertaining schemes and simple implementation tools: festivals, coaching, quiz evenings, online tutorials, collaborative worksites, "green" cooking workshops, barter parties, solidarity actions, major discussions, lunches with prominent public figures or even circular conferences. The REcyclerie four seasons were an opportunity for reflection, sharing and a desire to do better, together and for everyone.
The 4Rs in 2019
In 2019, REcyclerie developed a new theme based on the circular economy and the "4Rs". These four successive actions - Rethink, Reduce, Repair and Recycle - should lead to adopting a healthier, fairer and more sustainable world. Combined with the circular economy, they are a means for reducing waste, managing resources better and hoping to produce citizens who are more committed to a reduced environmental footprint.
REcyclerie translates this ambition into a daily programme and a continuation of 2C Conferences on a schedule of topics: REthink our lifestyles and dream of tomorrow's world, from January to March; REduce our waste and REplant the city, from April to June; REpair everything and REstore tastefully, from July to September; REcycle our waste and REvolutionise our ways of thinking, from October to December. The ambition meets the needs that the Veolia Foundation shares with REcyclerie.
"Year Zero" in 2020
To mark the beginning of the new decade, in 2020 La Recyclerie is determined to start from scratch, a starting point for discussions on the ecological transition. This programme will enable us to shape a new tomorrow in ecological, economic and social terms, for a simple and virtuous ecological transition.
The theme will be developed throughout the year in three phases each lasting three months:
January to March: "Zero damage", to preserve our environment and reinvent our cities for our well-being;
April to June: "Zero distance", to stop running and get closer to each other;
September to November: "Zero waste", to change our production and consumption.
"REsume control" in 2021
With the year 2020 disrupted by the Covid-19 health crisis, REcyclerie is restarting its activities in 2021 to "REsume control, one year to seize the present". The programme is based on three main topics: "Take control to come alive and make decisions", "Reach out to renew links and forge others", and "Lend a helping hand to multiply actions and lead the way".
The specific activity of the location will double with events on the Veolia Foundation's 2021 Environmental Book Prize, highlighting the winners as well as creating podcasts on the works and their authors. So much content transmitted to the entire Recyclerie community.
New plans: let's equip ourselves for the expedition of the century in 2022
In 2022, the RECYCLERY is pushing for a new collective start. In order to move forward with those who are digging and not to forget those who are discovering, the REcyclerie is proposing a modular, multi-speed ecology in order to offer each person the rhythm they are looking for to move forward in their learning, their consumption, their choices and their actions. It continues its programme of major debates, meetings, awareness-raising workshops and the organisation of responsible markets.
What's holding us back in 2023
In 2023, the team of animators and facilitators working on the season's programming are planning on... what's holding us back! The REcyclerie is looking at what's holding us back, collectively, from taking action, activating a plan and bringing about change.