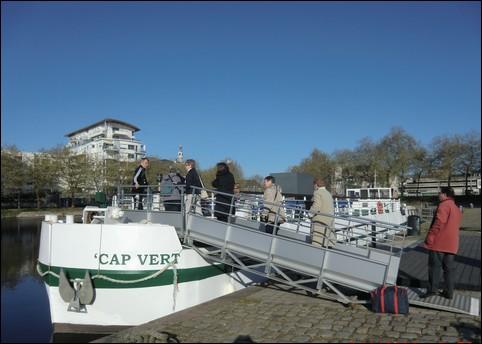 Environment and Biodiversity
Place
Nantes, France
Sponsor
Didier Gras-Boutteville
Grant(s)
10,000 € to the Selection Committee at 2007/12/04
Project leader
"I think it is helpful to lend a hand to this Association, so it can keep up its canal cruises and offer some happiness to people who can't so easily get around."

Didier Gras-Boutteville
Since it was launched in April 2001 and approved three years later, the barge of the Cap Vert Association has been roaming the waters around Nantes. Open to a varied public, it enables handicapped persons, elderly persons and those in social difficulty, to discover river tourism; it can accommodate up to 14 persons for trips on the Nantes-Brest canal or discovery classes. And yet, a victim of its success, the barge needs renovation today. The dry dock, mandatory for all "passenger vessels", revealed that the hull paintwork was badly damaged.
An environment friendly paint job before any relaunching
The new hull painting project is scheduled as part of the ship's normal maintenance budget. The employees and volunteers of Cap Vert also planned to do the job themselves. But this was before they discovered the tremendous obsolescence of the present paintwork: the paint used when the barge was constructed is now prohibited. Not only is its bituminous composition detrimental to the environment, but it is also incompatible with the new paints. It is therefore necessary to strip the hull metal completely by sandblasting. Only when this is completed, can three coats of environment friendly paint be applied. The operation, far more complicated than initially anticipated, demands the skills of a specialized shipyard. This naturally makes it more expensive, but the work is indispensable if the association wants to continue taking on passengers. Pending the next financial income in spring of 2008 with the resumption of tourist activity, it can only self-finance the operation by imperilling its own existence. After having already enabled the purchase of a generator set for the barge, the Veolia Foundation is therefore renewing its support to the association, by funding the operations to upgrade the vessel to environmental standards.