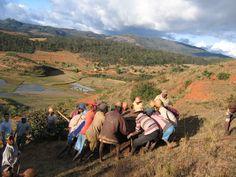 Humanitarian and Development
Project leader
Place
Alakamisy-Ambohimaha, Madagascar
Sponsor
Jean-Claude Rimlinger
Grant(s)
20 000 € to the Selection Committee at 2007/10/02
"The patronage of skills developed between Veolia Eau and the young engineers of Idées is exemplary in two respects: first, for the technology acquired over the years by the engineering students in the area of water; second, by their capacity to inspire and involve the villagers, who now take over the projects themselves."
Jean-Claude Rimlinger
Since 1996, Idées (Ingénieurs pour le Développement et les Échanges), an association of engineering students, has been active in Madagascar, where it conducts sustainable development projects. To guarantee the construction of permanent water supply networks, it has turned for several years to the experts of Veoliaforce, whom it has approached for advice. In the area of Alakamisy-Ambohimaha, where it is mobilizing, the water resource is in fact substantial but none of the villages still had any drinking water supply in 2000. The partnership established as of 2003 has already enabled Idées to install gravity water supplies in three initial villages. The Veolia foundation backed this action for the first time in 2004, and impressed by the success of this project, is making another grant today.
Guaranteeing the maintenance of the network
Three new villages - Andemdémy, Andreakarina and Ambalamaziem - will benefit from the water supply networks designed by the students of Idées thanks to the advice of Veoliaforce and in daily collaboration with the villagers. Together, the young engineers and the inhabitants will set up the various components of the water supply - the duct, the reservoir and the pipes - bought thanks to the grant from the Veolia foundation.
The operations of Idées will then not be limited to the technical aspect of laying the water supply network. The members of the association will in fact undertake the indispensable actions to guarantee its proper maintenance and duration: installation of water management committees (with registration in the prefecture) and procedure for returning existing installations to the commune under the decentralization law. Besides, the association will propose partnerships to the local feminine associations to organize awareness campaigns in hygiene and health - it also plans to build lavatories and waste bins.
Ultimately, 25 000 inhabitants will soon see their life substantially improved, thanks to the arrival of drinking water at the village center.