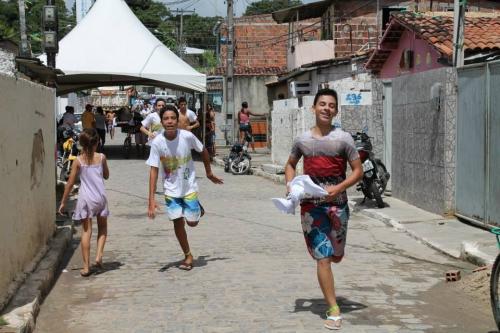 Social and Employment
Place
São Paulo, Santa Cecilia District, Brazil
Sponsor
Sandra Annunziata Carmona
Grant(s)
20 000 € to the Selection Committee at 2009/03/31
Project leader
« The Ato Cidadao/Essor project will be implemented in the Santa Cecilia district, where one of Dalkia's biggest facilities, Santa Casa de Sao Paulo, is located. Thanks to our expertise and the grant from the Veolia Foundation, we will be able to help the destitute population who live there by providing top level training. »

Sandra Annunziata Carmona
In Sao Paulo, the Santa Cecilia district, with its population of about 71 000, is one of the poorest in the city. Within the capital, it is in fact one of the last where many families live in a huge favela under the permanent threat of eviction. Confronted with a daunting socio-economic context, the young adults who live here face many problems of socialization and integration on the job market.Many of them are trapped in a terrifying vicious circle: violence, drugs, prostitution ...
To address the situation, the French international outreach NGO, Essor, has joined hands with a local NGO, Ato Cidadao, in the context of an agreement between the municipality of Sao Paulo and the European Union. Working together, they aim to develop a social and professional integration program at Santa Cecilia for the young adults - and particularly young single mothers - using a methodology already applied in five states of Brazil.
Work for 150 young persons
In concrete terms, after having determined their life project and identified the right type of vocational training with the help of social educators, the beneficiaries are guided towards the curricula of their choice provided by the municipality of Sao Paolo: tailoring, cuisine, shoemaking, secretarial services, masonry, security services, etc.
During their training, they are individually accompanied to assess the progress of their individual projects and to answer any questions that arise. Finally, when their training is completed, they receive a diploma that validates their training and they continue to enjoy the support of their referents, as long as they need to find a job.
The Veolia foundation has decided to participate in setting up this vitally necessary program, which will affect about one hundred and fifty young adults as well as their families.
Besides, the vocational training activities and accompaniment toward a job will generate paid jobs for about sixty persons. The program will be running throughout the year 2009.