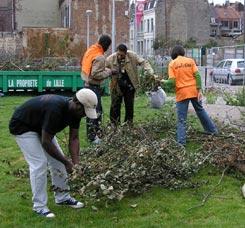 Social and Employment
Project leader
Place
Dunkirk and Lens, France
Sponsor
Michel Desmoucelles
Grant(s)
40 000 € to the Selection Committee at 2007/07/03
"The results of our previous partnership with Unis-Cité were absolutely positive. The sponsors got deeply involved in their mission to accompany the young volunteers. This is why we wanted to repeat this type of operation, by enlisting the representatives of the four divisions of Veolia as sponsors on this occasion."
Michel Desmoucelles
To devote several months of one's time to outreach projects useful to the community: the idea of a voluntary civil service, promoted since 1994 in France by the Unis-Cité association, has already attracted more than a thousand youths aged from 18 to 25, involved in many hundred projects dealing with the battle against exclusion, the restoration of social bonds, and environmental conservation.
Backed by the authorities, who recently set up a more favorable regulatory framework, by the municipalities and by private partners, this voluntary action offers a particularly rich itinerary for the youths concerned, because for 20% of their time, they receive training in citizenship and accompaniment in their professional projects. In 2005 and 2006, two teams of volunteers were already able to count on the commitment of the Veolia foundation in Lille and Toulon, plus a deep involvement of the sponsors alongside. The success of this operation has sparked its repetition in 2007 and 2008, this time at Lens and Dunkirk.
Two Teams, Four Projects, the Same Outreach Principle
For nine months, the team at Lens will assist the local branch of the Association of Paralyzed persons of France, by organizing a series of events and scheduling the two red-letter highlights, the Christmas Tree and the national handicap week. It will also be busy at the Lens hospital during the fete and the leisure week, and will provide support for the association of users of the geriatric ward in the areas of communication, animation and fundraising.
In Dunkirk, the program scheduled in February and June 2008 is focused on the environment. On behalf of the CPIE* of Flandres-Maritimes, the youth team will take part in dune protection projects, participate in discovery workshops, and handle the promotion and logistics support of the Sea week. They will also make a major contribution to two projects of the Maison de l'environnement: the erection of "plant walls" with the inhabitants, on abandoned areas, and the inauguration of "vertical gardens" during the neighborhood fete.
*Permanent Centre for Environmental Initiatives