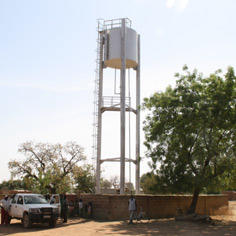 Humanitarian and Development
Place
Kabouda, Burkina Faso
Sponsor
Didier Tournaud
Grant(s)
60,000 € to the Selection Committee at 2005/10/04
Project leader
Harnes-Kabouda
«  This project to support the villagisation of populations in Kabouda by enhancing living conditions concerns a wide range of issues. In view of the the physical, emotional and financial commitment already made by the association and the standard of the monitoring procedures, I am fully confident of its success. »

Didier Tournaud
Since 1994, the two communes of Harnes, in the Pas-de-Calais region of France, and Kabouda, in Burkina Faso, have been involved in a twinning programme which has already borne fruit in the fields of culture, education and health.
Launched in 2004, the "water and health in Kabouda" project was designed to improve the living conditions of the 7,000 villagers while boosting local development. Until then water was only accessible from wells fitted with manual pumps and there was a terrible shortage for crops, livestock, domestic use and even for drinking! For instance, the school, dispensary and maternity clinic had no direct access to drinking water.
The lack of economic activities and sufficient resources has caused 400 villagers to leave the village in the past ten years.
The water project involved refurbishing a retaining reservoir for irrigation and groundwater replenishment and the installation of a mini drinking water supply system (with a system of standpipes run by a water inspector) supplemented by ad hoc connections to public buildings.
Reliable and motivated individuals
The substantial work required secured the involvement of all the stakeholders in an exemplary co-development project.
The project's sponsors, both engineers seconded by Veoliaforce to provide expert input and oversee operations, relied on site on the village chief and council, who provided their backing. And the locals pitched in zealously and effectively. As of December 2005, after the rainy season, the villagers began the arduous task of repairing the dike to enable water retention.
Working alongside the association, the commune of Harnes and the Conseil Régional of the Nord-Pas-de-Calais region, the Veolia foundation provided a grant of 60,000 euros: these funds helped cover the cost of most of the work as well as the equipment needed to establish this water supply system.