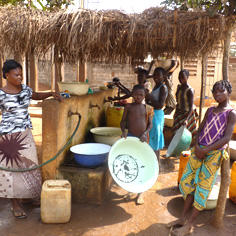 Humanitarian and Development
Place
Outskirts of Bohicon, Benin
Sponsor
Martin Laurence
Grant(s)
70 000 € to the Selection Committee at 2009/09/29
Project leader
Collectif Tiers-Monde Louviers
"Having visited Africa frequently, I could observe the scale of the health problems and the lack of resources with which the populations are faced. Hence I feel that this project ideally addresses local needs. The important factor is the permanence of the installations. This has been clearly understood by the commune of Bohicon, which has technical services and which will appoint a "farmer" to run the network."

Martin Laurence
Deep in the heart of Normandy, unpaid volunteers formed the association "Collectif Tiers Monde des cantons de Louviers et Val de Reuil" some twenty years ago.
Coming from all walks of life and religious affiliations, they shared a single ambition: to support outreach initiatives with the developing countries, to conduct awareness raising and information aimed at the French populations and to help establish a better balance between North and South.
To do this, they progressively forged partnerships with various South and North structures. In recent months, they have been working alongside the Communauté d'Agglomération Seine Eure (CASE) to develop projects with the commune of Bohicon, in Benin.
The two territorial authorities have in fact formed a partnership, contractualized by the signature of a friendship charter.
Training management committees to make the installations permanent
The decentralized cooperation project to which Collectif Tiers Monde des cantons de Louviers et Val de Reuil is committed, and which the Veolia Foundation has decided to support, concerns the installation of a water supply system and sanitation infrastructures for five villages on the outskirts of Bohicon.
Several facilities are concerned:
a new well equipped with a pump powered by a generator;
a 100 m3 water tower;
a water supply network of about ten kilometers flowing to fifteen standpipes distributed in five villages;
the construction of four sanitary blocks with showers, toilets and washbasins in the four village schools.
The operations will be handled by local contractors, after a call for bids from the town hall and from Bohicon, and the association will supervise the project. This new network will then be farmed out as encouraged by Benin law, with the help of the NGO Electriciens sans Frontières and the Veolia Foundation.
This initiative will significantly improve the healthy living conditions of the 12 000 inhabitants directly located in the area of the villages.