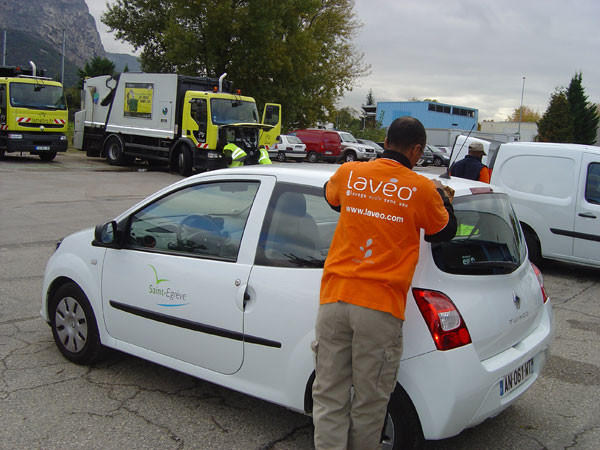 Social and Employment
Place
Seyssinet, France
Sponsor
Bruno Giraudel
Grant(s)
10 000 € to the Selection Committee at 2009/12/01
Project leader
Atelier SIIS (Sous Traitance Industrielle et Insertion Socioprofessionnelle), created in 1985 bySecours Catholique (Catholic Aid), specializes in mechanical and electrical assembly, custom jobs in plastics and metals, 100% inspection and sorting, and small scale logistics. To prepare its employees to go back to work effectively, ten experienced professionals supervise some fifty former jobseekers. They pay very close attention to reception, continuous training, incentive to regular work, as well as the completion of the necessary formalities and accompaniment toward work in a normal environment.
To contend with the problems associated with the economic crises, Atelier SIIS was obliged to set up a diversification project.
The company, which is ISO 9001 and Qualirei (integration approved) certified, decided to develop a waterless hand carwash service using biodegradable products, at its customer sites. This activity has the advantage of being speedily implemented - needing the purchase of the Laveo franchise - and not requiring large scale investment. It is also ideally suited to the persons welcomed in the workshop, who have experienced problems in finding jobs, due to its simple, rapid and universally accessible training.
Opportunities for durable jobs to persons poised to re-enter mainstream society.
This type of service is extremely attractive, particularly for professionals, since conventional carwash facilities entail high water consumption: 50 to 60 liters per vehicle for a high pressure carwash, 100 to 300 liters for passage through the rollers, and up to 500 liters for home cleaning. According to the Ecology Ministry, carwash accounts for 6% of the average drinking water consumption in France.
Pursuing this approach, Atelier SIIS successfully prospected the potential clientele of the Seyssinet industrial park where the company is established. The grant requested from the Veolia Foundation will be used to buy a vehicle suitable for transporting the personnel and the small equipment required to provide services at the customer sites.
The business was jump-started with the car dealers in the area. Many orders have been received, including the cleaning of fifty gondola lifts of a nearby ski resort. A full time supervisor has been trained in the technique and is assigned to this new activity. After one year of operation, the development of the project calls for the creation of three new supervisor jobs and eight under back-to-work contracts.