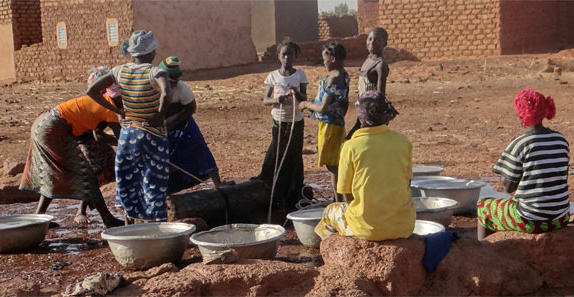 Humanitarian and Development
Place
Markoye, northeast Burkina Faso, Burkina Faso
Sponsor
Frédéric Mathon
Grant(s)
20 000 € to the Selection Committee at 2009/12/01
Project leader
"While the project may seem modest for the number of direct beneficiaries, it is the product of a very lengthy approach that led the project's main beneficiaries to express their needs, get involved in its feasibility study, and agree to reform traditional practices. This project acknowledges the civic expertise of the operatives in the field, and considers them to be anonymous educators, with a wealth of educational knowhow."

Frédéric Mathon
Markoye, population 5700, is the center of a whole region, in northeast Burkina Faso, between Sahel and Sahara. A major route between Mali, Niger and Burkina Faso, its weekly market welcomes more than 10 000 persons. The population there live chiefly from agriculture and animal husbandry. But during the dry season ... there is very little, if anything, to do. The men then leave the village to find work, often far away, and the women sometimes remain without any income. This is the setting of the market garden project initiated by the association "L'eau partagée" and by its connections on the spot. The association, created by SIDECM (Syndicat intercommunal de distribution d'eau de la Corniche des Maures) and pooling all the communes of the Gulf of Saint-Tropez, has been busy for more than fifteen years in educational and cooperation projects. In 2007, it signed a decentralized cooperation agreement with the village community of Markoye. One of the plots supplying the vegetables was flooded during the rainy season. But in the dry season, it had to be irrigated using a bucket carried at arm's length from a pond which was drying up day by day. To remedy this situation, the project started with the creation of a test plot in the enclosure of the commune's secondary school. A place was found outside the pond flood zone and a hydrogeological survey was conducted in partnership with the University of Ouagadougou. One of the three boreholes drilled yielded a sufficient flow of 6 m3/h. This time, everything was ready for the creation of the commune's market garden.
A new source of income, eight months of the year
Several pumping methods were investigated during the test phase, and the solar pump was found to provide the best yields. It has already proved its worth, since two of them have been in operation since 1986 on a plot 15 km from Markoye. No serious breakdown has occurred since they were commissioned.
The new garden, cultivable eight months per year, will be released to the 45 women of the Markoye Market Garden Group, offering them a source of income when they are often alone in raising their children.
The Veolia Foundation is sharing in the financing of the operations, which include the construction of a storage tank, a reservoir and a home for the guardian, plus the installation of a fence, and a living hedge, to protect the plantations from the winds and animals. The first harvests are expected in spring of 2010.