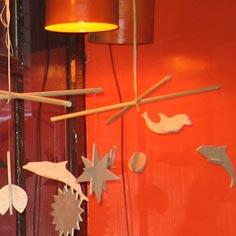 Social and Employment
Place
18th arrondissement, Paris, France
Sponsor
Delphine Cuny
Grant(s)
€ 20,000 to the Selection Committee at 2006/10/03
Project leader
Cirque et partage
"Making wooden toys is much more fulfilling than the work usually offered to the unemployed. In addition, Atelier 2000 will be selling other products, for example fabric dolls made by HIV-positive women in the Tours region. This reflects the true spirit of mutual aid."
Delphine Cuny
This initiative combines outreach, training leading to qualification and pleasure. Cirque et Partage is a non-profit organization that supports people with HIV, helping them become a part of society and the workforce through manual labor, creation and theater. It is launching a new project, Atelier 2000 [Workshop 2000], in Paris's Goutte d'Or neighborhood, where HIV-positive people hired under a two-year contract will make wooden toys and small furniture for marketing.
On the road to vocational certification
Not only will the people hired enjoy the pleasures of woodworking and have the satisfaction of knowing that the objects they've made will soon be in a child's hands, but they will also be acquiring sufficient training to meet the requirements for a certificate in woodworking. Yet another facet of the project's outreach: the store will be run by a mobility-impaired person.
An agreement has been signed with the departmental employment and vocational-training agency to form this workforce-development business, and technical assistance will be provided by the workforce-development business incubator of the city of Paris. Now all that remains is to renovate the store space, which has been vacant for 20 years.
The fondation Veolia grant will be used to bring the store up to the accessibility standards so that its manager can work there. Atelier 2000 is getting off to an auspicious start, with its neighbors already applauding the project. In a very popular neighborhood, a store selling toys at reasonable prices stands a good chance of making more than one person happy.