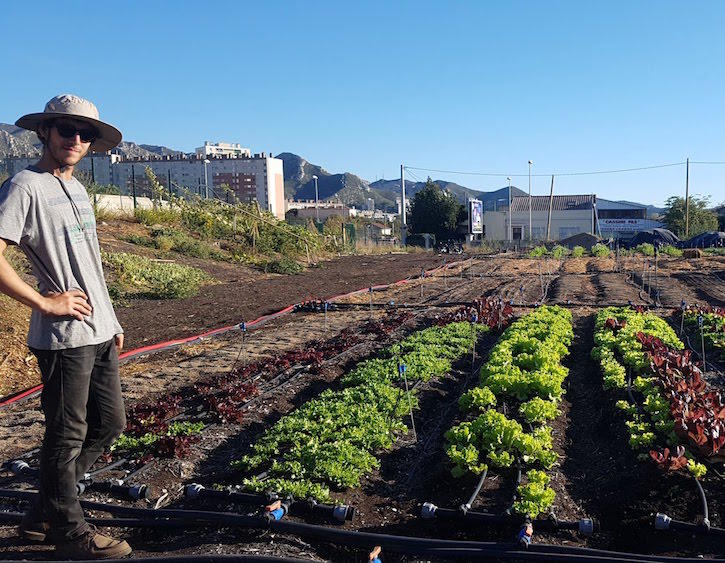 Environment & biodiversity
Location:
Marseille (France)
Sponsor:
Hervé Pernot
Grants:
€25,000 to the Selection Committee meeting of 10 April 2018
€10,000 to the Selection Committee meeting of 21 October 2019
€20,000 to the Selection Committee meeting of 1 April 2021
Project leader
I am personally working alongside this association. Providing compost and showing people around the project once it has been rehabilitated is also a way of making our employees aware of future challenges and motivating them by recognizing the quality of their work.
Based in Marseille, the Heko Farm Association was created in response to the climate emergency that has been noticeable for a number of years. It is working on the emergence, in this metropolis, of a regionally differentiated, sustainable and resilient food system and, to achieve this, it has four objectives: First, the development of productive micro-farms in urban and suburban areas; next, the creation of spaces dedicated to urban farming; then, the transformation of collective green spaces; and lastly, the development of educational tools intended for schools.
This ambition has resulted in several achievements: setting up an educational garden at a Marseille primary school, an urban farm project in a priority part of the city with the municipal council, gardening operation in this same area, etc.
A project in the wake of the construction of the L2 ring road
In Marseille, the A507 urban motorway - or L2 ring road - has led to the redevelopment of many areas within the conurbation and to freeing up unbuilt and, until now, neglected urban land. Heko Farm took an interest in it. The association contacted the company operating the A507 in order to transform this urban wasteland into a place of greenery and local life: Le Talus.
This programme was created in a former landfill site, in the heart of a working-class district. There were two findings there: a lack of green spaces and difficult access to quality local food products. To help overcome these two problems, the players from this project focused on two areas: edible revegetation and ecological agricultural activities inspired by permaculture. The approach also made it possible to experiment with ecological transition at this open-air laboratory.
At a practical level, Le Talus brings together vegetable garden containers for hire, organic production and the sale of fruit and vegetables, a henhouse whose fresh eggs are on sale, a collective vermicompost bin, various training courses and events, a beehive, an educational pool, etc.
To maintain the vegetated areas (fruit hedges, shrubs and large trees), operate the urban nursery, exploit the market garden perimeter and that of the bioclimatic greenhouse, Heko Farm came together with the integration group through the La Varappe business, already a partner of the Veolia foundation. These tasks will ultimately lead to the creation of eight integration jobs in urban market gardening.
Solidarity cuisine in 2021
In 2021, Heko Farm is developing the idea of solidarity cuisine at Le Talus. The key idea is to create, in re-use containers, a shared kitchen open to the outside and allowing the inhabitants of the surrounding neighbourhoods to participate in the preparation of meals, train in catering or consume meals. In addition to its classic catering activity, in offering a range of sustainable and affordable dishes and products, the kitchen will host educational workshops on sustainable and regional food. Events will also be held on the manufacture of household and cosmetic products with grandmother's recipes, which are both less expensive and more eco-responsible. All the components of these recipes will be available in the solidarity catering shop area.
This third place, supported by the Veolia Foundation, is an area where you can grow produce, eat, have a drink, observe and meet people.  Access is free and it is open during the day on Wednesdays and Saturdays. Tuesdays are dedicated to participatory projects: the participants build, sow and harvest. They improve and keep Le Talus alive.