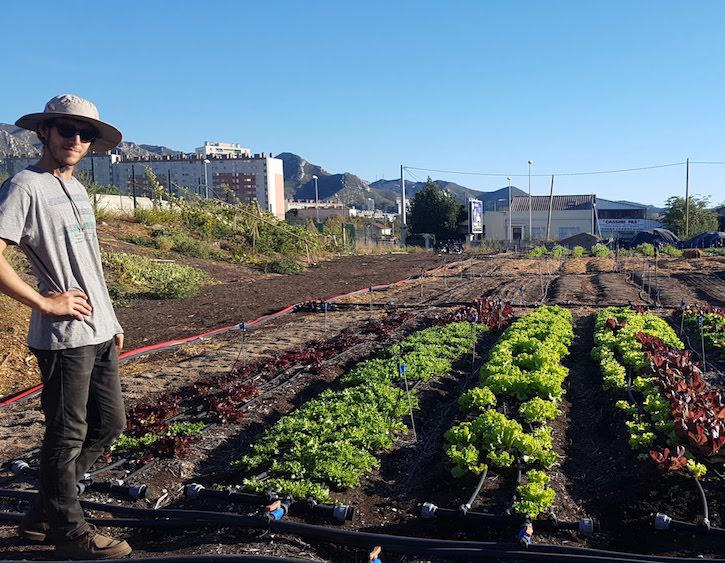 Environment & biodiversity
Location:
Marseille (France)
Sponsor:
Hervé Pernot
Grants:
€25,000 at the selection committee meeting on 10 April 2018
€10,000 at the selection committee meeting on 21 October 2019
Project leader
"In addition to the funding provided by the Veolia Foundation, the Septèmes Les Vallons platform is also going to supply certified compost made from green waste. Supplying compost and getting people to visit the project once the land has been restored is also a way of raising people awareness about the issues of the future."
Heko Farm, based in Marseille, was set up in response to the recent climate emergency. It works for the emergence of a local, sustainable and resilient food system in Marseille. With this in mind, it pursues four goals: the development of productive micro-farms in urban and peri-urban areas; the creation of spaces dedicated to urban farming; the transformation of collective green spaces; and lastly the development of educational tools for schoolchildren.
This vision has been realized in the form of several projects: an educational garden in a primary school in Marseille, an urban farm project with the city council in one of the city's priority districts, a gardening operation in the same district, and more.
A project following on from the construction of the L2 bypass
In Marseilles, the A507 urban motorway - or L2 bypass - has led to the redevelopment of many areas within the conurbation and to the release of undeveloped and, until now, neglected urban land. Heko Farm took an interest and contacted the company operating the A507 motorway with a view to turning this urban wasteland into a green space for the local community: Le Talus.
The programme was established on a former building site rubbish dump in the heart of a working class district. Two things became clear: there was a lack of green spaces and poor access to high-quality locally sourced food products. To address these two issues, the project stakeholders worked along two lines: edible planting, and permaculture-inspired ecological farming activities. The approach has also made it possible to experiment with the ecological transition in this open-air laboratory.
To maintain the planted areas (fruit hedges, shrubs, large trees), run the urban nursery, the market garden and the bioclimatic greenhouse, Heko Farm approached the La Varappe Group, already a Veolia Foundation partner, which encourages social inclusion through work. These tasks will eventually lead to the creation of eight urban market gardening work integration jobs.
Nature accessible to all
In concrete terms, Le Talus groups together rented vegetable containers, organic production and the sale of fruit and vegetables, a henhouse where fresh eggs are for sale, a collective worm composter, various training courses and events, a beehive, an educational pond, a canteen... In this third place supported by the Veolia Foundation, you can grow, eat, drink, observe and meet people... Free to access, it is open on Wednesdays and Saturdays during the day. Tuesdays are dedicated to participative projects: the participants build, sow, harvest... They improve and bring Le Talus to life.