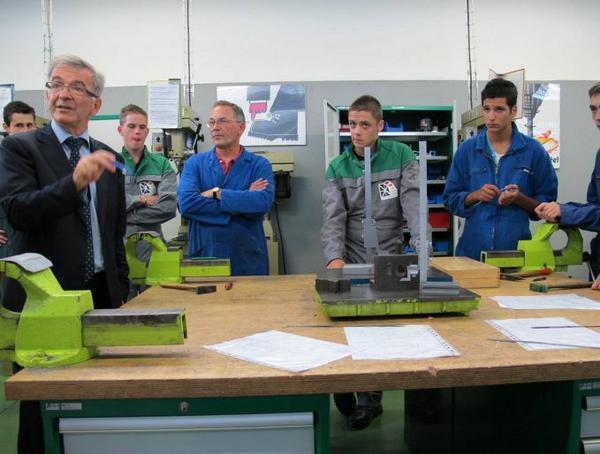 Humanitarian and Development
Place
Bamako, Mali
Sponsor
Michel Barbier
Grant(s)
4,000 € to the Selection Committee at 2008/07/01
Project leader
Lycée Professionnel Denis Papin
« This project enables the Denis Papin school to set up a dynamic in the school so that the French students can discover Africa, Mali, the living conditions of the African students, and their culture. A charter of "good conduct" will be signed by each French pupil and his legal representative: the pupil will pledge to adopt an exemplary attitude, respectful of the habits and customs of the host family. »

Michel Barbier
The technical school of Bamako has very obsolete electrical installations which absolutely must be overhauled.
At the same time, the Denis Papin professional school of Romorantin, in the Loir-et-Cher district, regularly signs partnership agreements with various private and public structures, to encourage its pupils to open up to other realities than those which they encounter in the classroom and in their homes.
And the Centre Region (where Romorantin is located) has signed a decentralized cooperation agreement with several regions of the world, including Mopti in Mali.
The conjunction of these three realities has led two teachers of the electrical engineering department of the Denis Papin school to propose that their pupils help the Bamako school to overhaul its electrical installation. While putting their theoretical knowledge to practical use, the French students will learn how to work in a team, to discover another culture and another environment.
A daily log to track the experiment
To help them in this international outreach project, the teachers of the Denis Papin school enjoy the backing of the association "Cœur de France Cœur d'Afrique" based in Romorantin. Together, they have drawn up the conditions for accommodating the young French students in Bamako.
For example, the French students will work hand in hand with the Malian students.
They will also be accommodated in Malian families and will have to sign a "Charter of Good Conduct", encouraging them to demonstrate an exemplary attitude in their host families. Thus, beyond the learning of particular techniques (the electrical overhaul will have to take account of the specific context of the district of Bamako where the technical school is located), the Denis Papin students will learn the reality of the families living in conditions that are very different from their own.
This opening to the world will lead to the compilation of a "log" (paper and Internet version) that will help transmit this experience within the Denis Papin school, to all those who haven't had the chance to participate in this great experiment.