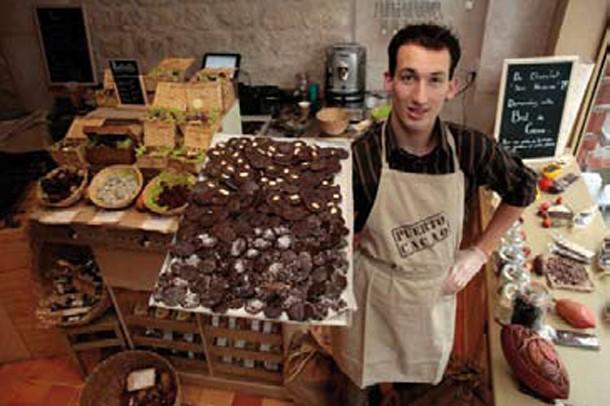 Social and Employment
Place
Paris, France
Sponsor
Joël Bouffard
Grant(s)
10 000 € to the Selection Committee at 2009/09/29
Project leader
Choc'éthic, the parent company of the project, destined to be the apex of the Puerto Cacao global concept network, manages the import of cocoa from the Venezuelan pipeline, relations with the producers of Barlovento, and the wholesale trade with casemakers and other applicants.
And the limited company SARL Choc'éthic Chocolat Paris which reports legally to the parent company, is in charge of promoting the two Puerto Cacao boutiques opened in Paris, and marketing the brand products.
The first boutique, at 53, rue de Tocqueville, in the 17th arrondissement, was opened in 2006; the second is in preparation at 2, rue Théophile Roussel, in the 12th arrondissement, a neighborhood that is popular on weekends, which is great for growth. Three back-to-work salesperson jobs will be created in this new boutique.
A project that incarnates the social engagement of the company in its environment
To satisfy customers with top quality products and service, the mission of Choc'éthic is to use the fair artisanal chocolate niche to create a network of eco‑designed boutiques in order to minimize the environmental impact of its operations (carbon compensation of transport, choice of ecological materials, etc.) and sell fair produce with profitable remuneration for the producers of the developing countries. The quality of the concept has encouraged a sponsorship of skills, the sponsor of the project, in Veolia, having offered technical advice on the energy aspects of the boutique and in seeking sustainable development solutions.
The network is now innovative in another respect, because these boutiques all have to be workforce development structures for people in difficulty. The company articles and the shareholders' pact demand the employment of persons returning to work.
This determination, which is the mark of the founder, gives the project and the company an unusual and outstanding human dimension.