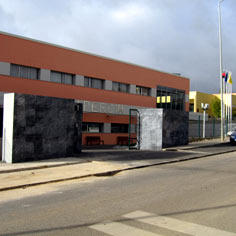 Environment and Biodiversity
Place
Mafra, Portugal
Sponsor
Joao Borges
Grant(s)
135,000 € to the Selection Committee at 2005/05/31
  Project leader Apercim
«  The association has filled a gap in the region in terms of facilities available for disabled children and adults. In addition, every effort is being made to integrate the project into the local community's welfare structures and foster the social and professional integration of users. »

Joao Borges
When a group of parents of disabled children make a concerted effort to implement solutions tailored to their needs, the local population and institutions are often inspired to lend a helping hand. In any case, this is what has happened in the Portuguese town of Mafra, since the founding of Apercim (association for the education, rehabilitation and social integration of disabled children) in 1993.
Thanks to its efforts, a daycare centre has taken in over two hundred children and young adults with a variety of disabilities since 2001. This ground-breaking unit offers a broad range of activities and services, with the aim being to improve family, social and even professional integration. As is the only facility of its kind in the region, its optimum operating capacity has already been exceeded. To meet the growing needs of families, the association has chosen to expand onto an adjoining plot of land donated by the local municipality.
 
Eighty-seven new jobs
At the heart of this new structure dubbed Craeris, new services will be provided for the disabled. For instance, a forty-room residential centre will be able to accommodate young adults over the age of 16 on a temporary basis, as well as the mentally disabled, in order to give their families a break for a weekend, holidays or in the event of an emergency. A crèche with facilities for fifty-two children with working mothers but also those with special needs (due to an illness or disability). Another development has been the activity and physiotherapy area for ninety young people and adults with serious disabilities aimed at facilitating their social integration and guidance by means of socio professional programmes.
For those suffering from mental illnesses, a social and occupational forum will aim to facilitate their social, family and/or professional integration as well as their inclusion in protected job programmes.
Finally, Apercim is keen to prevent and combat social exclusion by creating a new information technology learning zone open to all: people with physical disabilities or psychological disorders who attend the centre or disadvantaged and vulnerable members of society.
In all, seventy-seven jobs will be created to run the facility. These come on top of the existing fifty-two posts and a large number of volunteer positions. Alongside numerous public and private partners (including the European Regional Development Fund) the Veolia foundation is contributing 135,000 euros to cover the cost of equipment needed for the new centre's activities.