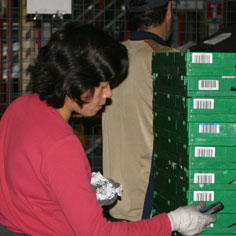 Social and Employment
Project leader
Ares Boissy-Saint-Léger
Place
Boissy-Saint-Léger, France
Sponsor
Stéphane Legay
Grant(s)
20 000 € to the Selection Committee at 2007/07/03
"ARES has developed an exemplary social project in the last 10 years, structured on a complementarity of activities in order to admit the most diversified possible public and to devise progressive and individualized integration routes. This model enables it to obtain a rather exceptional rate of positive departures - more than 60% returns to the working world at the end of the integration contracts - despite the admission of a public suffering extreme precariousness."
Stéphane Legay
Ares Services Val-de-Marne, a subsidized workforce development agency, develops subcontracting activities in the areas of source separation, materials handling and industrial painting. Established since 1995, it does this with the help of financing for 66 full-time jobs, under integration contracts. Its employees, primarily male, have worked so far on the projects of its customers.
To extend its integration operations to publics even more remote from the working world, and more fragile - women, handicapped persons, for example - Ares Services Val-de-Marne plans to open its own workshop, where the work will be done on the spot.
New Activities and Consolidated Handling
The premises leased by Ares Services, located in the Boissy-Saint-Léger industrial park (classed Sensitive Urban Zone, monitored under city policy), will be used to develop new professional activities: routing and packaging, copy services, document compilation, jewelry fabrication, etc.
On the ground floor of the building, the premises are being refitted to equip a large workshop with offices, changing rooms and sanitary blocks. Upstairs, Ares Services plans to arrange a living area, other offices, a training room, and three production shops.
To carry out this project, Ares Services will enlist a number of its integration employees, including the foreman, who will coordinate the work, armed with more than 20 years of professional experience in the building trades. The aim is to involve the maximum number of persons in these refitting operations. For more technical aspects, it will rely on the skills of integration structures like Urbatir, more specialized in building finishing operations. Finally, Ares Services will have to buy equipment adapted to the types of production it plans: barcode systems, order preparation tables, shelves. It will also have to make the premises secure.
Thanks to these many investments, Ares Services Val-de-Marne plans to create 20 new integration jobs as of March 2008.