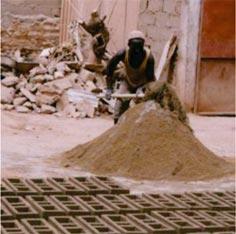 Social and Employment
Place
Mali, Bamako
Sponsor
Anne-Sophie Pierre
Grant(s)
31,000 € to the Selection Committee at 2004/11/30
Project leader
Mali Soleil
In Lyon, the Mali soleil association strives to provide aid for Mali's disadvantaged peoples. Across the Sahara in Bamako, the Malian association Aide (Association of initiatives for development) brings together Malian and French people with a common goal. Together, the two associations decided to work towards literacy among the Malian capital's street children and to provide solid professional training to willing women.
A project soon on its own feet
In one of the poorest neighbourhoods in Bamako's 5th district (there are six), the two associations decided to expand an existing building to house a reception and literacy centre for street children, as well as a sewing and embroidery training workshop for women.
The school will employ its own professor who will take on the mission of integrating these children into the classic school system. The professional training centre provides a two-year training programme for thirty women in sewing and twenty in embroidery. Courses will be taught by professional tailors and embroiderers. The workshop's creations will be sold to guarantee the entire project's (school and training centre) long-term economic viability.
In Mali, the Minister of Culture and Tourism as well as the mayor Bamako have already decided to take part in the project and the two associations have pitched in their share. The Veolia foundation decided to make a commitment at their sides to the tune of 31,000 euros to finance construction of the future building. In the coming months, the project will create thirteen direct jobs.