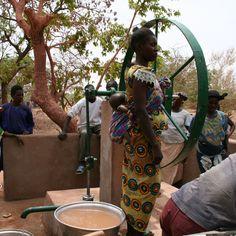 Humanitarian and Development
Place
Village of Bwan, province of Mouhoun, Burkina Faso
Sponsor
Michaël Blanc
Grant
10 000 € to the Selection Committee at 2007/10/02
Project leader
Yenenga
"The need to drill a new well in the village is crucial. During our investigative trip with the members of Yenenga, we were pleasantly surprised by the organization set up by the villagers. Their committee will enable us to guarantee effective supervision of the operations."
Michaël Blanc
800 inhabitants of Bwan - a bush village located 400 km from Ouagadougou - live, like many inhabitants of Burkina Faso, on practically nothing. 90% of them subsist on agriculture and goat breeding. The children and elderly often suffer from food deficiencies and are the first to be affected by waterborne diseases. The water drawn from the traditional wells (open and shallow) is unfit for consumption in most cases. To remedy this problem, the association Yenenga, created in 2005 in Carpentras by specialized educators, has decided to mobilize alongside the villagers.
Yenenga, which was founded to help youths of the Vaucluse district in difficulty to draw up their own life projects, has forged humanitarian, cooperative and cultural links with the village of Bwan for two years. In April 2006, the association sent a group of adolescents to the area to learn quickly of the scale of the problem of "impure" water.
The only effective answer: drill a new well
After a report compiled on the spot by the experts of the Société des Eaux de Marseille, the need to drill a new well very quickly emerged. The new well, 80 meters deep, helps to relieve the only well in the village, which already supplies 1 500 persons. This new well has been built at the opposite end of the built-up area, near the school which accommodates 400 children. Organized into committees, the inhabitants of the village are in charge of supervising the operations alongside the volunteers of Yenenga, which happens to be the best way to guarantee the maintenance of the installation and the viability of the project.