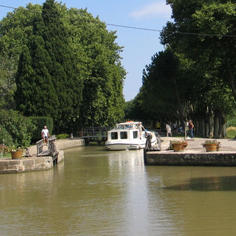 Environment and Biodiversity
Place
Canal du Midi, France
Sponsor
Jérôme Panine
Grant(s)
30 000 € to the Selection Committee at 2006/03/28
  Project leader Croisières du CANAL
«  Deeply respectful of the already delicate environment of the Canal du Midi, this project offers a less elitist tourism, accessible to all. And it also creates two jobs. It appears to have all the ingredients to succeed. Its future success could spark other ideas… »

Jérôme Panine
The Canal Du Midi, completed in 1681, was intended to connect the Garonne with the Mediterranean for goods traffic. It fully performed this role for 200 years. Today, it serves a purely touristic purpose. Indeed, its success means that it is far too popular at certain times of the year. Fifty thousand persons sail every year on board one of the 450 ships, barge-hotels or punts. Not counting a thousand seagoing vessels that take this route from the Atlantic to the Mediterranean. Ultimately, this popularity generates some pollution.
The ingenious Naviratous project doesn't involve just launching one more ship. This exceptional catamaran, featuring electrosolar propulsion, is completely accessible to persons with challenged mobility. Thirty meters long and 5 meters athwart, capable of accommodating thirteen passengers and four crew members, it sails in silence and without emitting any smoke thanks to its photovoltaic generator.
An Alternative to Conventional River Tourism
Using little energy, accessible to handicapped persons, and original: this project has attracted the interest and support of many local and national bodies. More than half of the overall budget of more than 500 000 euros is associated with the amenities and specific equipment of the ship. The 30 000 euro contribution of the Veolia foundation will help finance the electrical installations, added funds from the regional council of Languedoc-Roussillon and from Ademe (Agency for Environmental Development and Energy Conservation).