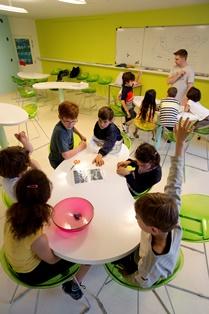 Environment and Biodiversity
Place
France
Sponsor
Dominique Héron
Grant(s)
€5,000 to the Selection Committee at 2013/12/10
Project leader
"In its roadmap, the recent environmental conference stressed the importance of EEDD (Environmental Education and Sustainable Development). It is clear that clean and green technologies not only demand tangible investments, but also a strong accompaniment in terms of awareness-raising, education and training. The educational tools of Ricochets are a clear and readily accessible answer."

Dominique Héron
Created in 1983 on the initiative of naturalist educators and structured as a nonprofit in 1990, recognized of community interest, approved for youth and universal education and environmental conservation, Réseau École et Nature (REN) is a nonprofit association of committed players, artisans of environmental education, a source of self-sufficiency, responsibility and solidarity with others and with nature.
A space for meetings and exchanges, where everyone can share his experiences and rethink his relationship with the world, a space for environmental information, awareness-raising and educational projects at every regional scale, REN is a recognized partner in leading collective projects and representing its players nationally and internationally.
6,000 visitors expected on the internet platform in 2015
Today, REN wants to create a national educational scheme on water from its Ricochets tool. Rather than simply rethinking the approach proposed today, this means broadening, enriching and advancing the scheme, particularly to take account of the needs identified in terms of civic participation, international solidarity, public and private management of the water resource, tools for exchanges and pooling. The many objectives range from providing educators (organizers, teachers, etc.) with innovative and up-to-date educational and technical media on the theme of water; placing water at the heart of a dynamic of exchanges and pooling between players implicated in awareness-raising , education, training and/or joint planning projects in this area; training field staff in water-related educational and participatory practices, and also in the challenges of water resource management, but also trying to respond to the four proposals of the "water" project of the EEDD 2013 conference in Lyon, particularly to the priority proposal:
"An action plan to foster an understanding of the link between our individual acts and their global repercussions on water resources, on the environment and on health, relying on the concept of the general good."
To do this, spurred on by a dynamic and productive working group, it is planned to reorganize and enrich the existing content, particularly by diversifying the target publics and the activities proposed, adapting the training content proposed to the water players in accordance with new needs, without neglecting the renovation of the packaging of the educational kit: lighter and more practical.
Besides, an internet platform will help put the resources and organization of exchanges between the various players online. In 2013, the kickoff phase, the REN teams formed working groups, drafted declarations and working documents, compiled an inventory, found partners and subsidies. The year 2014 sees the implementation phase of the new system with renovation and design of the new modules. And in 2015, the distribution phase of the tool (production of 20 Ricochets kits) with the installation of training courses and meetings and an estimation of 6000 visitors per year on the dedicated platform.
The Foundation is supporting the production of this new tool.