The nonprofit YA+K (Young Artists + Konnexion), was set up in 2010 by architecture, town planning and design students to implement community-oriented projects. YA+K's approach consists of bringing individuals together in a group initiative around a given project (artistic, architecture, construction, etc.). It also works regularly with local stakeholders (local authorities, non-profit organizations) and artists (video makers and plastic artists, etc.).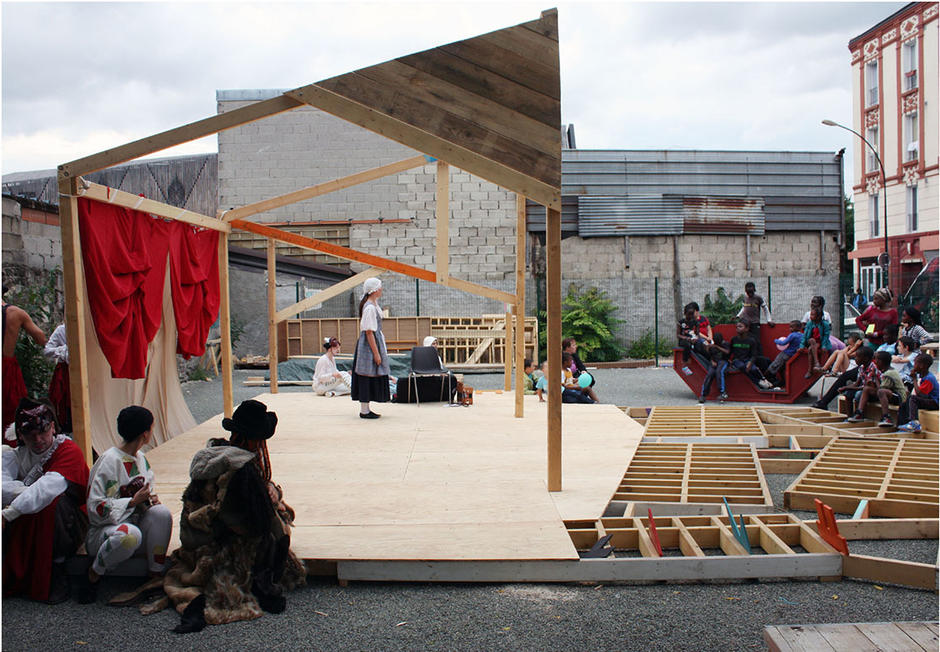 Environmental conservation and biodiversity
Location
Bagnolet, France
Sponsor
Jacques Hayward
Dotation
4 500 €, Third Prize, 2015 Student Solidarity Award, 04/24/2015
Project Leader
« YA+K» (Young Architects + Konnexion), nonprofit led by students from the Ecole Nationale Supérieure d'Architecture (La Villette and Paris Malaquais) and the Université Paris 1 Panthéon Sorbonne Paris
A participative initiative involving local residents …
Visible to all but inaccessible from the Maurice Thorez esplanade, the patio known as "the lion's pit" has been abandoned by residents for several years and has become a dumping ground for garbage. YA+K's architecture students are helping residents to reclaim this site, while inviting them to participate in a collective construction and development initiative.
 
YA+K is supervising a participative project through which local residents design and build a greenhouse, a terrace and outdoor furniture. Once the space has been rehabilitated, it will be used as a working tool for the project to reclaim the esplanade.
 
Another aim of the project is to provide a venue for discussions around issues to do with recycling, sustainable development and responsible practices, through meetings organized by non-profit organizations and the Federation of Seine-Saint-Denis Social Centers, and stimulate actions revolving around these practices.
 
... set up by students with plenty of experience under their belt!
YA+K brings together architecture, town planning, design and fine arts students who make their skills (setting up projects, seeking funding and partners, communication, supervision and assessment, etc.) available to serve community projects.
They have been active for several years in participative projects in Seine-Saint-Denis, Ivry-sur-Seine and Aubervilliers, and already have another two projects under way in Bagnolet. Some of the students have been recruited under Civil Service contracts by the nonprofit, enabling them to ensure a regular presence in the neighborhood while continuing their studies.
The project was put together with local stakeholders, in close collaboration with the Municipality of Bagnolet, non-profit organizations and the Federation of Seine-Saint-Denis Social Centers. Employees of the Pablo Neruda Neighborhood Center have agreed to help mobilize residents and supervise the action, while also making premises available to YA+K.
The Student Solidarity Award Jury awarded Third Prize to this project, with a grant to finance YA+K's communication actions, together with the equipment needed to rehabilitate the patio.