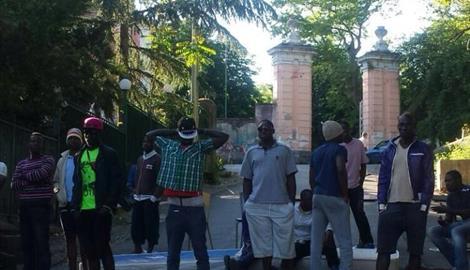 Humanitarian and Development
Place
Balengou, 300 kilometres west of Douala, Cameroon
Sponsor
Frédérique Héry
Grant(s)
€31,000 to the Selection Committee at 2005/02/08
  Project leader Vois (Villes ouvertes internationales solidaires)
« The technical aspect that we are intending to take responsibility for is being managed together with the regional and local authorities of the town of Balengou. The documents provided with the detail and quotes for the work are being examined and reviewed by us. The final proposal incorporates our changes: the work will be able to begin in the first quarter of 2005 after the company selection. »

Frédérique Héry
In 2004, the VOIS Association was created on the initiative of the Mayor of Liévin, Mr. Kucheda. Its purpose was to strengthen the solidarity of the communities of the mining region of the Pas-de-Calais with developing countries through cooperative projects. With this in mind, an initial mission went to the town of Balengou, 300 kilometres to the west of Douala, Cameroon, to evaluate the local needs for access to water.
 
Water in the high school and the health centre
At the high school, more than 900 students as well as the teaching staff will have access to water.
In October 2004, along with the VOIS members, politicians and civil servants from the Liévin municipality, and volunteers from Veoliaforce mandated by the management of Générale des Eaux in Liévin went to identify the most essential work for the welfare of the population.
On site, after assessing the situation and recommending certain steps, the volunteers agreed with the local authorities and representatives of the population on two priority projects: re-establish access to water for the high school, where around 900 students are studying, and for the health centre, which takes in nearly 7,200 patients every year.
With their counterparts from Cameroon, Veoliaforce and VOIS examined the feasibility requirements of the two future projects. In the health centre, the need is to dig a well, build a water tower and a street fountain. Approached as a potential donor, the Veolia foundation will grant €31,000 to this dual project in order to finance a portion of the work. In parallel, the VOIS Association is setting up methods to raise awareness in the locale: a library and small lectures on water at the high school, and health counselling in the hospital.