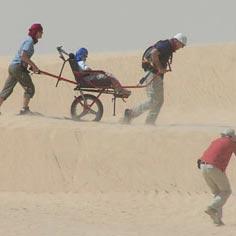 Social and Employment
Place
Grand Erg Oriental, Tunisia
Sponsor
Xavier Guépet
Grant
20,000 € to the Selection Committee at 2005/12/06
Project leader
Edouard-Herriot primary school, Lyon
"This project alone sums up the challenges we will have to face in the years to come: protecting our natural environment and solidarity with our fellow citizens. In just a few days, these children will become aware of things that many people never understand."
Xavier Guépet
In Lyons, the Édouard-Herriot elementary school has been enrolling disabled children and offering them a curriculum adapted to their challenges that is nothing short of ambitious.
In 1999, for example, the school took a group of normal children, teachers and eight children with motor deficiencies to southern Morocco for an unusual adventure: they were to climb a 2,900 meter-high mountain.
In 2006, a new challenge awaited them: a week-long expedition to the Tunisian Sahara with trekking in the Grand Erg Oriental desert to celebrate its 10th anniversary.
Learning to help each other and to protect the environment
From March 6 to 13, 2006, 56 second-graders and 11 of their disabled classmates enjoyed the excitement of sharing experiences that are definitely out of the ordinary. They learned ways of conserving resources and protecting the environment, for example, using water when it is scarce, managing waste, using solar energy to heat water for showers and cooking in the sand.
Several communication projects went on simultaneously, giving the children ways of sharing their experiences with people back home. With help from a writer and a professional photographer from Lyons, one group of the children was asked to produce a log book and write a short story, to be published at the end of the school year. Another group, directed by a moviemaker, was asked to film a report to be submitted for broadcast on the local Cap Canal channel. Finally, a Web site was created to relate the many experiences they had and the techniques used to overcome difficulties. The site is accessible to all schools interested in developing exciting projects of their own for their pupils.
The Veolia foundation decided to participate in the adventure in its own way and donated €20 000 to help the school balance its logistics budget.
Memories for all
From March 9 to 16, 2006, the 56 elementary school students and 11 handicapped students of an adjusted class (CLIS) of the Edouard Herriot school in Lyons accordingly departed on their great Sahara trek, as part of the "Evasion verticale" project. The students and the children succeeded in completing all the projects designed in anticipation of their trip:
some of them continued their adventure on a literary plane by working with the Lyons author Maryvonne Rippert to compile a travel notebook and a novel of intrigue in the heart of the Sahara;
other students just took charge of photo reportages under the supervision of William Alix, a professional photographer;
a documentary was shot by a third team with a film editor, Guillaume Caron, and a sound man, Grégory Adoir. It was broadcast on the CAP CANAL channel in September 2006;
a final group performed daily scientific experiments to gauge the impact of renewable energies and to understand their necessity in the years to come.