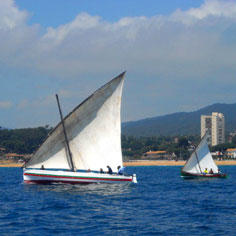 Social and Employment
Place
Marseille, France
Sponsor
Géraldine Pallai
Grant(s)
20 000 € to the Selection Committee at 2007/10/02
Project leader
Cap Marseille
"I'm familiar with Cap Marseille and its leader, Jeanne Coloni. After having started alone, she now manages a team of 16 persons. Besides the sailing school and its ship, La Flâneuse, Cap Marseille has also initiated many other events: sea festivals at Port Saint-Louis du Rhône, sailing regattas attended by up to 10,000 participants, etc. All these events, which take place in the Mediterranean, familiarize the participants and the public with environmental conservation."

Géraldine Pallai
The association Cap Marseille was created in 1996 to make its contribution to two major societal projects: respect for the environment and workforce development. Running a sailing school approved by the French Ministry of Youth and Sports, and affiliated since 1999 with the French Sailing Federation, it welcomes handicapped persons and youths facing social difficulties.
On its large wooden sailing ship, La Flâneuse, and on five smaller traditional boats, it embarks these two publics for ocean outings or to discover the sailor's craft.
A sailing school managed by employees under integration contracts
In addition to this sailing school, it has developed another type of host project: environmental awareness modules open to anyone who wishes to learn more about the ecosystem of the Mediterranean shoreline.
In slightly more than ten years, Cap Marseille has managed to make its activity permanent by employing full-time staff - four staff positions - and employees under integration contracts. In addition to accompanying the excursions and the information sessions on the environment, they take charge of the renovation projects on the association's ships. In return, they receive personalized social aid to prepare for their integration in the world of unaided work. At the end of 2007, Cap Marseille employed five full-time staff and ten integration contract employees.
However, since its flagship, La Flâneuse, is showing signs of exhaustion, it has to renovate it from top to bottom before planning any new sailing excursions. The grant from the Veolia Foundation will give it the means to complete this new project. With, ultimately, the possibility of helping a growing number of persons to seek relief in difficult moments thanks to sailing. Destination hope ...