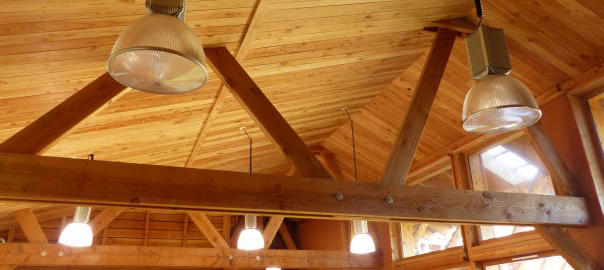 Environment and Biodiversity
Place
Saint Just-Saint Rambert, France
Sponsor
Vincent Nguyen Ba
Grant(s)
25 000 € to the Selection Committee at 2010/01/26
Project leader
At Saint Just-Saint Rambert, the association Le Jardin d'Oasis runs according to the principles of the network of the Jardins de Cocagne: persons employed on a back-to-work basis cultivate organic vegetables in a market garden. The produce is then sold in the form of weekly baskets to the member consumers of the association.
Accommodated so far in prefabricated and provisional premises, due to the lack of sufficient financial resources, Jardin d'Oasis decided that it was high time to procure something more durable. Even better: it will convert this need into a new experiment to promote environmental conservation in the building field. The future headquarters of the association will therefore be an "eco-exemplary" building that draws on innovative or conventional but all ecological ... techniques.
Resorting to totally modern or, on the contrary, traditional materials
The building will thus be built with a wood frame, with clay-coated straw walls (like pisé). These traditional materials will provide efficient insulation in summer as well as winter. Heating will be wood-fired and electric power will be supplied by photovoltaic panels. Water for the sanitary blocks, and for sprinkling, will be obtained from a rainwater recovery system, and sanitation will use planted filters.
Once this "ecological" building has been completed and starts running, it will obviously offer pleasant accommodation (especially during breaks) to the employees of Jardin d'Oasis. It will also serve as a model for the visitors that the association already plans to invite, including building training bodies like the AFPA, building unions (CAPEB and FFB) and all professionals interested in bau-building. It is also planned to arrange an access route around the building, to exhibit cutaways indoors and install visuals - like wall glazings - so that everyone can discover the various techniques employed and the effectiveness of the materials used.
The Veolia Foundation has joined in this exemplary approach.
The future headquarters of Jardin d'Oasis should be completed by the fall of 2010.
---
OTHER PROJECT SUPPORTED
Oasure: Constructing an exemplary building to improve the reception conditions of a workforce development agency in the Lolre valley.
Domain: Social and employment
Country: France
Endowment: 2012/06/05
Learn more about this project