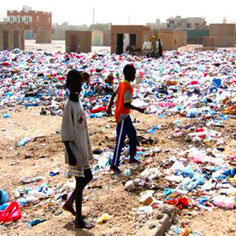 Environment and Biodiversity
Place
Nouakchott, Mauritania
Sponsor
Jean-Christian Pottier
Grant(s)
75 000 € to the Selection Committee at 2008/03/26
Project leader
The outskirts and poor neighborhoods of the large built-up areas of sub-Saharan countries are literally invaded with plastic wastes, which pile up in every corner of the streets and alleys, are only sporadically collected, and are scattered everywhere by the winds.
In Nouakchott, the capital of Mauritania, the Gret - which the Veolia foundation has already supported in Asia - has decided to grapple with this problem.
In the most vulnerable neighborhoods of the city, it is developing a project to collect and process plastic waste to fight against this pollution, while enabling women's cooperatives to boost their income.
Improving the wastewater services of the neighborhoods
Thanks to the construction and outfitting of a "waste technical treatment center" (TTC) reserved for an economic interest group composed of several of these coops, the Gret has set the target of improving the wastewater services of the two pilot neighborhoods in which it works, launching a plastic recycling process in Mauritania, and improving the income of the women.
The TTC is designed to recover from 100 to 150 tons of waste per year: the plastic will be washed and then shredded. Local artisans and contractors will then be encouraged to produce new objects or equipment (septic tanks, bins, etc.) from this recycled material. In addition to its undeniably important action to enhance the quality of the urban environment, th center will also first serve to perpetuate the jobs of some 30 persons.