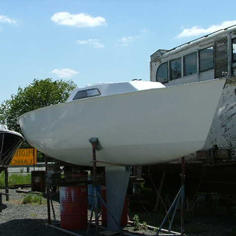 Environment and Biodiversity
Place
Rennes, France
Sponsor
Michel Romestain
Grant(s)
15 000 € to the Selection Committee at 2005/05/31
  Project leader Crana organisation
«  This project combines solidarity, education, the environment and respect for the coastline. »

Michel Romestain
Disadvantaged, sick, disabled, etc. in today's society there are still many who are unable to enjoy the luxury and health benefits of a sea outing.
In 1988, the Crana organisation was founded around a simple objective : giving those who don't normally have access to the sea a chance to discover the sea and coastline. This led it to develop a kit boat measuring 2.3 metres for sea outings for children from disadvantaged backgrounds and training in boat building for the unemployed it also designed the "Farfadet", the first single-handed craft for those with leg disabilities.
 
For children with leucaemia
Today, the association has launched a new initiative involving the restoration of a boat constructed in 1981 on behalf of the Rennes-based association, Myosotis. Established in 1989 by a doctor working under Professor Le Gall at the hospital of Rennes Sud, Myosotis uses various methods to provide moral, psychological and practical support to children suffering from leucaemia, as well as their parents.
Once medical approval is granted, the renovated boat will take the sick children out to sea to help them forget about their illness. The boat will be based in Dinard, which will help publicise the good work of Myosotis in the Britanny region.
The Crana organisation has already covered acquisition of the boat and restoration of its hull. the 15,000 euros granted by the Veolia Environnment Foundation will make it possible to bring the vessel into line with standards, acquire a trailer, safety equipment, onboard electronics and a small motor. Then the children will be able to go aboard and pretend they are adventurers, pirates or captains out on the high seas, just like all their friends in good health.