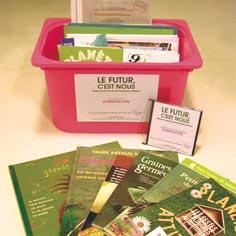 Environment and Biodiversity
Place
Val d'Oise, France
Sponsor
Fanny Demulier
Grant(s)
25,000 €, to the Selection Committee at 2005/12/06
Project leader
b.a-BA
«  The unique feature of this project lies in the use of art workshops to generate respect for the environment. The educational content will help foster children's sense of responsibility towards the environment. »

Fanny Demulier
Summary
Spread across two administrative departments, Val d'Oise and Yvelines, and bordering on the Oise and Eure departments, the Vexin Regional Nature Park is a small region where life has been pleasant for thousands of years. To the south, it is bordered by the meanders the seine has eroded at the foot of impressive cliffs, and where certain old sentinels, such as the Château de La Roche-Guyon, still stand watch today. Humans have exploited the limestone quarries here since Roman times. To the northeast, the Oise department forms the border of this bucolic landscape that inspired some of the most famous 19th-century painters. Everywhere, the wealth and diversity of the soil has fostered the development of farming on a human scale. However, urban encroachment and certain industries are threatening this fragile natural balance.
Migrating from the rest of the Ile-de-France regions or from further afield, many people have chosen this benign region to raise their families. Some of them decided to form an association called b.a-BA to contribute to the awareness and education of the upcoming generations - the future inhabitants of this charming region - and to work collectively to leave their bit of the planet in a better state than it is today.
Learning through creativity
To reinforce social ties, inform and generate public awareness about the need to protect the local ecosystem, and also quite simply to entertain, b.a-BA is developing a project targeting primary and junior high school students in 20 classes in the Val d'Oise department. Working together with teachers, volunteer professionals and local artists, the association plans to organize twenty art workshops focused on a specific topic of sustainable development.
Each workshop is expected to culminate in a collective work of art that will be exhibited at the Regional Natural Park's celebration at the close of the 2005/2006 school year.
To help ensure the smooth operation of these workshops, b.a-BA has put together a teaching kit for each of the topics selected. The Veolia foundation helps ensure the success of this unique project through its 25 000 euros grant. Through this artistic and educational activity, the children will acquire new skills that they will be able to pass on to their parents!
Progress report14 teaching kits for the Park's celebration
A short educational film about the environment, a newspaper produced by the students, and 14 kits, were completed for the celebration of late June 2006. This inaugural project has also neen presented to other associations to encourage the wider emulation of the approach.