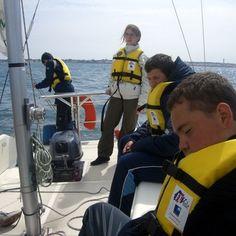 Social and Employment
Place
Corsica, Sardinia, France
Sponsor
Franck Pennetier
Grant(s)
35,000 € to the Selection Committee at 2006/03/28
  Project leader Les matelots de la vie
«  Being the father of three children, I felt concerned by the project designed to instill hope in sick children by making them discover an element with which most of them were no doubt unfamiliar: the sea. Sailing, which I do as a pastime, gave them a great deal of pleasure. I'm sure of that. »

Franck Pennetier
What could be better for a successful convalescence than a dream come true? Last summer, off the Corsican and Sardinian coasts, the association Les Matelots de la Vie proposed to play "Pirates of the Caribbean", full-scale, for adolescents emerging from long periods of hospitalization.
During the months of July and August, the Nicolas Hulot Foundation provided them with its flagship (and crew), the "Fleur de Lampaul", a superb ancient wooden sailing ship, a historic monument.
On board, they were led into an exciting treasure hunt. Young patients, who remained in their hospital beds, sent them clues by solving certain riddles via the website of the Nicolas Hulot Foundation. With this guidance, the corsair's apprentices advanced gradually toward the treasure.
Strong mobilization around the project
Beyond the clearly fun aspects, this uncommon adventure, which mobilized adolescents on land and on sea, as well as their care teams and families, was aimed to favor their cure and return to "normal" life. Onboard, the newly healthy children discovered the beauty of nature and its fragility. They developed their self-reliance and learned again to live in a group. Above all, they sent a message of hope to their comrades who remained "confined" to their hospital beds. "I was sick, I fought and I'm cured."
Appreciating the originality of the approach, the pediatric wards of eight hospitals in France and Belgium joined in the adventure. And many partners had already invested: the Ligue Contre le Cancer, the Caisses d'Épargne Savings Bank, the Triballat group. The Veolia foundation allocated 35 000 euros to the project, which it proposed to network with other initiatives in favor of hospitalized children: Blouses Roses and Docteur Souris.