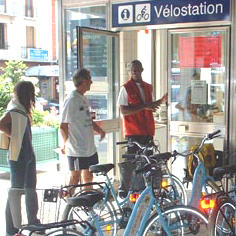 Environment and Biodiversity
Place
Chambéry, Savoie, France
Sponsor
David Rituper
Grant(s)
20,000 € to the Selection Committee at 2006/03/28
  Project leader Agence Ecomobilité
«  Agence écomobilité is a major layer in promoting low environmental impact methods of transport within the municipality of Chambéry. It has been particularly successful with the student population, thanks to its attractive annual rate of 40 euros.  »

David Rituper
Germany, the Netherlands, Italy… some of France's neighbors have already developed "bike service stations." France is somewhat lagging behind in this area. Fortunately, cities like Grenoble, Strasbourg and Chambéry are helping France catch up. In Chambéry, the Agence écomobilité association is working to help users and the municipality limit the number of solo car users and develop car-pooling. In particular, it manages a "Vélostation" or Bike Station that is part of the Urban Travel Plan. Located on the forecourt of the city's SNCF rail station, this bike station includes a series of bike-related services.
Practical and economical transport
The principle involves bike hire, maintenance and storage at attractive prices. For example, hire costs 5 euros a day or 15 euros a month. Helmets, baby seats and trailers are also available, along with an array of information about alternative means of transport (buses, trains, etc.). The current fleet has 250 adult and children's bikes and 40 guarded storage places. In response to the success of this initiative (50,000 bike-days a year and four jobs created), Agence écomobilité is planning to increase its capacity with a new bike acquisition program. The Veolia foundation is providing 20,000 euros towards this investment. A very direct way to contribute to combating greenhouse gases!