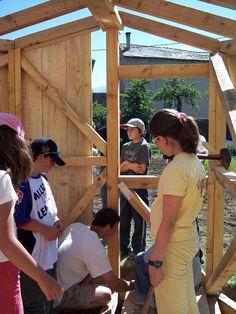 Environment and Biodiversity
Project leader
Enfants de la Planète
Place
Sainte-Léocadie, France
Sponsor
Jean Ferriz
Grant(s)
4 000 € to the Selection Committee at 2007/10/02
"This highly pedagogical project enables the children to become aware, from primary class, of energy conservation and ecology, using means that are very simple to use. As to the adults, they will have the occasion to learn that renewable energies are not just intended for the needs of industry."
Jean Ferriz
Located at an altitude of 1600 m in the heart of the Cerdagne district (Pyrénées Orientales), Sainte-Léocadie, a mountain commune surrounded by forests, is known for its museum dedicated to the local architecture and history from the 18th century to our day. 10 000 visitors come each year to discover this repository of memory designed around an old farm, the Cal Mateu.
To create a link between the past, the present and the future, the Cerdane association, Enfants de la Planète, has teamed up with the museum management to build a bioclimatic home. The aim is to demonstrate to the public, with solid evidence, that reliance on renewable energies is both necessary, interesting and... offers an excellent opportunity to build comfortable homes.
Active participation of the pupils
The originality of this project stems from the direct involvement of the pupils of the primary school of Font-Romeu and the volunteers who will work together to complete this house during two school years.
The group will be counseled by an architect specialized in this type of construction: he will refine the drawings prepared by the pupils and will supervise the construction site. A carpenter, an energy flow specialist and two specialists in energy and gardening will also provide their expertise. Besides the construction of the house, its indoor and outdoor insulation will be provided with various types of materials. The project comprises: a wind generator, a heat generator, a solar water heater and its storage system, a photovoltaic unit and the installation of a water collector and a pump to sprinkle the garden surrounding the museum-farm.
Thanks to the grant from the Veolia foundation, the first phase of the work has obtained the green light. Within two years, people big and small will be able to confirm, on the spot, the reasons for using renewable energies.