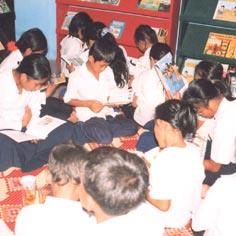 Social and Employment
Place
Cambodia
Sponsor
Marie-Laure Buisson
Grant(s)
10,000 € to the Selection Committee at 2004/11/30
Project leader
Sipar
« Without Sipar, there would be no books to teach people in the Cambodian countryside. It is a community-based project aimed at improving the living environment of deprived populations: books which are published, distributed to libraries then loaned out, provide information on topics such as farming, hygiene and health. »

Marie-Laure Buisson
Between 1975 and 1979, the communist Khmer Rouge regime in Cambodia hunted down all those branded as "intellectuals". Its policy of crushing opposition from whatever quarter led to the systematic destruction of all libraries and there were even cases of people being "punished" by death simply for owning a book. Today, almost thirty years later, there is a desperate shortage of books in a country where half of the population is under 15 years of age.
Books for all regions
Created in 1982 to assist Cambodian refugees who had fled to France or camps along the Thai border, the Sipar association (private fund to assist reconstruction in Southeast Asia) has spent years trying to alleviate this book shortage. 60% funded by the European Union and sponsored by private individuals and benefactors, the association is active in four areas:
- the creation of ninety libraries followed by their supply with four hundred books (including four mobile libraries covering the outskirts of Phnom Penh);
- training of six hundred library staff deployed locally;
- publication of 150,000 books in the Khmer language;
- public awareness campaigns covering hygiene, health, livestock production and farming.
The 10,000 euros provided by the Veolia foundation is earmarked for modernisation of the first fifty libraries created by Sipar which will enable young readers to discover the joy of reading.