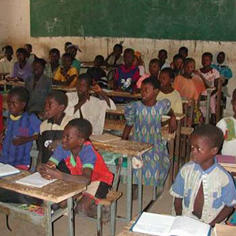 Humanitarian and Development
Place
Tuili, Burkina Faso
Sponsor
Jacques Pouliquen
Grant
8 320 € to the Selection Committee at 2008/03/26
Project leader
Amicale laïque de Guilers
« In 2005, the association drilled a borehole and set up a solar power system to supply water to 400 persons. Having been involved in this first part of the project, I have the satisfaction of seeing for myself how such an installation can bring genuine social progress to the inhabitants. »

Jacques Pouliquen
Since 1989, the link between a commune of the Finistère, Guilers, and a rural commune of Burkina Faso, Tuili, has become increasingly strong. The Amicale de Guilers in fact accompanies the inhabitants of Tuili in several development projects: together, they have succeeded in building a school, a dispensary, family gardens, plus the lighting of the home and maternity center using solar energy.
And in 2005, the first grant from the Veolia foundation helped them to drill a borehole powered by a solar collector. In 2008, the plan is to intensify the benefits provided by the arrival of the water.
Supplying the dispensary and the maternity ward with water
The new project, conducted jointly by the Amicale and two associations of inhabitants of Tuili, consists in reinforcing the borehole with a more powerful water pump and adding a reservoir.
These new installations serve to supply water to a home for some 30 boarding students, the dispensary and the maternity ward, located some 150 meters away, all the inhabitants living within a radius of one kilometer, and an area of 5000 m2 for the development of truck gardening.
The inhabitants, aware of the economic and social advantages provided by the universally available water, are participating financially and energetically in this new development. Water buckets are already being sold for a token amount in order to finance the upkeep of the equipment and to promote respect for this resource - which remains rare in Burkina Faso.