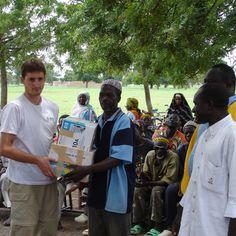 Social and Employment
Place
Burkina Faso, Mali, Mauritania, Senegal, Mauritania
Sponsor
Carol-Anne de Carolis, Institut Veolia
Grant(s)
22,000 € to the Selection Committee at 2005/07/05
Project leader
Cercle Aéro
«  Well organised, taken forward by enthusiastic young people with past experience, supported by partners of a high caliber, this worthwhile project has the merit of providing assistance on the ground requiring mutual support while driving local development". It will be tied into another project supported by the Foundation involving the establishment of a school in Bamako. »

Carol-Anne de Carolis
Aircraft are more than a means of transport. For the flying enthusiasts of the "Cercle Aéro" association, they also represent the means to help others and bring people together.
Their latest initiative, implemented during summer 2005, is focused on providing assistance to children centres located in the various isolated regions of Burkina Faso, Mali, Mauritania and Senegal.
Sitting in the cockpit, four pilots are responsible for medical and teaching supplies, mainly provided by the Lion's Club and the Order of Malta in the international airports of Ouagadougou, Dakar and Bamako for deliveries close to five isolated villages selected with the assistance of the "Eau Vive" association.
Assistance, education and sharing of experience
But the project has much greater ambitions. In Burkina Faso, Mali and Mauritania, a team of students from ESC Nancy and the Estaca engineering school have remained at the site for several weeks in order to help children aged 6 to 15 to participate in sports, reading & writing classes, arts workshops or classes in elementary science. The "Aviation sans frontières" association has helped route aid to Senegal while Echoway has examined the local potential for "social tourism". This project is also aimed at young French people. Pupils from a number of schools and sick children from three Paris hospitals (Necker, Saint-Vincent-de-Paul and Trousseau) can therefore share this experience or follow the project on TV thanks to reports on the France 3 Ile-de-France channel.
Funding from the Veolia foundation has covered the cost of the operation whose logistical costs have been paid for by the participants themselves (pilots and students) and four partners (Levallois Sporting Club, Périgord Travail aérien, BP France and the "Estac'Aide" association).