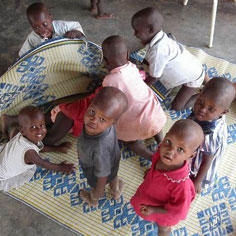 Humanitaire et Développement
Place
Lumbila, Burkina Faso
Sponsor
Michel Piot
Grant(s)
15,000 € to the Selection Committee at 2004/11/30
Project leader
Graines de Joie Développement
In order to turn their stopovers and transport facilities to advantage, Air France staff based at Marignane airport are doing their bit for international aid via their association, Graines de Joie. Since 1998, they have provided material aid for children at every available opportunity. Recently, they turned their attention to two orphanages, one in Romania and the other in Burkina Faso.
The second orphanage, which is currently under construction, is located at Lumbila, some 40 kilometres from Ouagadougou. It will be home to 150 children who will also receive meals and schooling. Local inhabitants will also enjoy access to literacy classes and basic healthcare services.
Finishing the building work
This well-designed orphanage has already been organised to ensure self-sufficiency in food. Activities such as market gardening and livestock production are planned to generate additional income.
Several international organisations, coordinated by the local association, Les Voix de l'Esperance, have pooled their efforts to ensure the success of this project.
Graines de Joie is charged with fitting out the common areas and classrooms. It oversaw construction of the dormitory in 2002 and the school itself in 2003. The Veolia foundation has provided 15,000 euros in funding to ensure that the final building work can be completed: three fully-equipped classrooms, a toilet block and the headmaster's office.