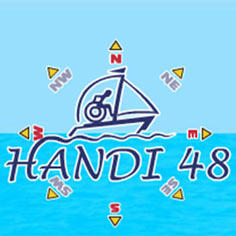 Social and Employment
Place
Argelès-sur-Mer, France
Sponsor
Michel Decorruée
Grant(s)
10,000 € to the Selection Committee at 2008/01/29 Project leader Handi 48 Loisirs-Évasion
"The association enables handicapped persons to enjoy the pleasures of sailing, both for sea outings, life on board and even actual operations. This is a highly appreciated opportunity."

Michel Decorruée
Since 1990, the association Handi 48 Loisirs-Évasion has owned and managed a 15 meter catamaran. Anchored at Argelès-sur-Mer, it is specially equipped to take handicapped persons on Mediterranean cruises.
It was in fact originally outfitted by Jean Pourredon, a handicapped person himself and a great lover of the sea.
This vessel, "La ville de Pau", can accommodate five persons in wheelchairs and another three non-handicapped persons. Its skipper, Agnès Lapeyre, is a friend and the "second mate" of Isabelle Autissier.
In 2005, Veolia foundation had already aided the association: the sailing ship needed to be refurbished from the top down.
Three years later, new improvements are planned: the catamaran will be equipped with electronic navigation equipment (GPS, sounder, log, radio, batteries, etc.) and its rigging renewed (topsail and jib).
Encouraged by the success of the initiative for so many years, the Veolia foundation decided to renew its support to Handi 48 Loisirs-Évasion.
The sea is still a marvelous means of escape, and especially so when one is forced to live in a wheelchair.