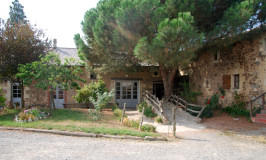 Social and Employment
Place
Cernay, France
Sponsor
Christophe Dubois
Grant(s)
€25,000 to the Selection Committee at 2010/03/30
Project leader
Arts et Loisirs Boësset
"The refurbishing of the Maison fits in perfectly with the idea of solidarity and the installation of the woodchip fired boiler, with the imperative of environmental conservation. I'm sponsoring this project because I was impressed by the commitment of the personnel who work daily with the residents in order to offer them the support they need."

Christophe Dubois
The vocation of the Maisons Relais is to welcome people in very difficult situations: minimal resources, social dislocation, practical or psychological inability to have a normal home, especially for those who spend long periods in a psychiatric hospital. The combination of private housing and common areas that encourage links and exchanges offers the occupants a framework conducive to the return to mainstream society. Each Maison Relais has its own social project, with clearly defined objectives. At Cernay (Deux-Sèvres district), the teams of Maison Boësset are already working regularly with the psychiatric world to accommodate people who are too fragile to live alone. The facility is run by the nonprofit Art et Loisirs on behalf of the nonprofit organization Cité des Cloches, partner of the Abbé Pierre Foundation. Its managers have decided to convert it into a Maison Relais to offer a very social, but also more permanent and comfortable habitat, including for persons with reduced mobility. This means a big work project.
A friendly community in a place that respects people and the environment
The financing plan for the creation of the fifteen apartments and the refurbishing of the common areas has already been settled. Financed in particular by the Veolia Foundation, a woodchip fired boiler will supply the heat required for the entire building. The transformation of the place, endorsed by the DDASS social security service, will serve to improve the life of the occupants and optimize their handling and observation, largely thanks to the commitment of the pair of hosts who run Maison Boësset and the communal dynamic that they have generated.