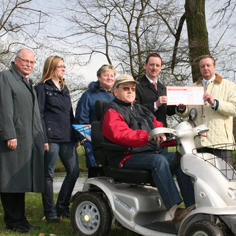 Environment and Biodiversity
Place
Weimar, Thuringia, Germany
Sponsor
Michael Strube
Grant(s)
22 000 € to the Selection Committee at 2008/03/26
Project leader
Verein für Fischwaid und Umweltschutz Taubach/Mellingen e.V.
« The fact that an association of fishermen is so deeply concerned about nature conservation and the integration of disadvantaged persons attests to their intense desire to promote harmony between man and nature. Besides, their success in persuading the city of Leipzig and the Labor Agency clearly demonstrates the innovative and passionate nature of the project. »

Michael Strube
In 1960, the fishermen of the village of Taubach/Mellingen (incorporated in 1994 in the town of Weimar) banded together in the association Verein für Fischwaid und Umweltschutz Taubach/Mellingen. Fond of their river, the Ilm, of its banks and its "population", they decided to act to protect endangered species and to preserve the local biodiversity.
In nearly 50 years of existence, they have completed several projects in this connection. As a new project planned for 2008, these fishermen - pioneering harmony between men and their natural environment - want to create a river observation and discovery station, not far from the mill of Taubach, an old hydropower facility that is still in operation.
A place accessible to handicapped persons
Tourists, disadvantaged persons, school groups, etc.: from this observatory, everyone can come and discover the ecosystem of the river Ilm and learn how to protect it.
In the spring, the fishermen propose to participate in returning certain species to the water, and throughout the year, the public can come to learn about the basics of the various fishing techniques and make analyses of the water, coached by the association's members. Besides, everyone can get there: plans to develop access to the observatory will consider the needs of pedestrians, as well as cyclists and persons in wheelchairs.
And display panels describing the fauna and flora of the river will disseminate the advantages of the project: information and awareness about respect for nature. Ultimately, the observatory will be the first step of a more comprehensive itinerary along the river Ilm called "stories of water" - an initiative marking the celebration of the 888th anniversary of the foundation of the village.