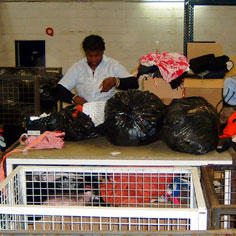 Social and Employment
Place
Tours, France
Sponsor
Rémy Comte
Grant(s)
35,000 € to the Selection Committee at 2007/12/04
Project leader
"Tri 37 is installed a few hundred meters from the Veolia Propreté agency of La Riche, in Tours. I know that this project is serious, because it relies on the recognized knowhow of the Relais, a member of Emmaüs France. Besides, I find it perfectly relevant because it meets a genuine need of the Centre Region."

Rémy Comte
The association Tri 37, founded in 1993 in Tours, applied for the status of integration agency two years later. It offered integration work contracts in the collection of wastepaper in the Tours built up area. It then diversified its recycling activities to other types of consumer goods: clothing and WEEE (waste electrical and electronic equipment).
In a few years, it managed to create 10 jobs for full-time employees and 40 integration jobs, becoming one of the three most important integration agencies in the Centre Region.
From vocational integration to a solid job
New development: Tri 37 now wants to create twenty new posts of aided jobs, lasting two years, for women experiencing difficulty in the city. The activity proposed is the sorting and recycling of apparel and household linen. According to its forecasts, it expects to process 100 to 150,000 tons of clothing, shoes, household linen and accessories in the first year. The future employees will sign a two-year integration contract and will be accompanied by a socio-cultural supervisor, who will be responsible, when the contract ends, to help them find lasting employment on the job market.
To take up this new challenge, Tri 37 is relying on the expertise of the Emmaüs network, the foremost operator in textile collection and sorting in continental France, and the leading expert in the field. For two years, the twenty new employees will therefore acquire new skills and gradually recover self-confidence.
To enable the project to succeed, the Veolia Foundation has decided to help Tri 37 to buy a 40 ton press, a loading ramp to transport the bales of textiles, as well as textile containers. A highly pragmatic project to help long-term unemployed women to rebuild a future for themselves.