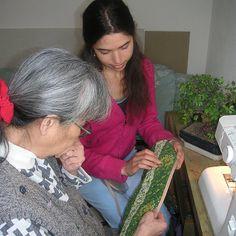 Environment and Biodiversity
Place
France
Sponsor
Xavier Heber-Suffrin
Grant(s)
9, 000 € to the Selection Committee at 2005/05/31
  Project leader Concorda Logis
« This initiative from Concord Logis helps bring two generations together for their mutual benefit. This project is extremely valuable and clearly meets a current need. »

Xavier Heber-Suffrin
On the one hand, there is a student population which is finding it increasingly difficult to find affordable accommodation. On the other, elderly people living in isolation who have difficulty in carrying out everyday tasks.
About ten years ago, the idea of bringing these two groups together for their mutual benefit was first floated as part of a highly original initiative. So it was that in Barcelona and Madrid, followed more recently by France, a number of projects were launched aimed at putting elderly people living alone in spacious apartments in touch with students who are seeking accommodation and prepared to give up some of their spare time in return for a roof over their heads.
 
A website to cope with the strong interest
The activities of the Concorda association in Montpellier is based on this concept. Once the parties are registered, it brings elderly people and students together. The elderly person provides the student with accommodation in exchange for a minimal rent and a hand with certain chores: shopping, preparing meals and, above all, the security of their presence in the evenings and through the night.
"Concorda logis" then helps each "pairing" to get the most from the experience: it asks them to sign a agreement detailing the undertakings of both parties and ensures that these are subsequently met. Depending on the standard of accommodation and the type of services provided, the student may be required to make a contribution of 150 to 250 euros per month. In addition, the registration fees come to 150 euros for the elderly and 80 euros for students.
The initiative has aroused considerable interest, which is proof that a real need exists. "Concorda Logis" is now planning to set up an interactive website to manage queries and has requested funding from the Veolia foundation to cover the cost of its development, estimated at 9,000 euros.
Once this new logistics tool is up and running, Concorda will be able to extend its services to the Perigean and Mimes areas.