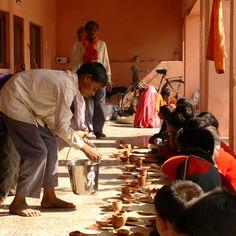 Social and Employment
Project leader
Laxmi
Place
Lalitakund, India
Sponsor
Henri Linglez
Grant(s)
10,000 € to the Selection Committee at 2007/10/02
"This association, presided by Mrs. Radha Devi, has been active since 1995 and invests in humanitarian projects in its country. It was at a festival on India, organized by the association with the support of the town hall of Villeneuve-sur-Lot, that I made her acquaintance. Mrs. Devi explained that the funds gathered by the various events that she organizes are intended to supply the general budget of her association, but that they are still inadequate to cover the enormous needs of its projects.

"In November 2006, a delegation from Pondicherry, led by the Minister of Tourism and Urban Affairs, was received in turn by the town hall of Villeneuve-sur-Lot and by Veolia Eau, in connection with the European convention on waste and wastewater collection and treatment. Mrs. Radha Devi was a member of the Indian delegation, due to her support projects for the schools of Pondicherry. It was on that occasion that I took the decision to help her through the Veolia foundation."
Henri Linglez
In Northern India, the Lalitakund school welcomes more than 200 pupils in difficult conditions, both in terms of comfort and safety, as well as hygiene.
Due to the lack of tables and chairs, the children sometimes work on the floor in the school without any heating system. In this area, winter can be severe, with temperatures close to freezing. Besides, the wall of the school, which is too low and improperly secured, is liable to cause falling and allow easy break-ins. And since the institution's water supply is inadequate, the hygiene conditions are dubious.
The involvement of the town hall of Villeneuve-sur-Lot
The Laxmi association, which has invested in various projects in India since 1995, has approached the Veolia foundation for the refurbishment of this public school. The grant from the Foundation will serve to equip the classrooms with seven heaters and a sufficient number of tables and benches. It will also be used to buy a water pump to fully supply the building, as well as the materials necessary to raise the school wall. The construction of a small waste disposal unit will also facilitate the beginning of source separation of the household refuse, particularly with the production of compost from green waste.
The town hall of Villeneuve-sur-Lot is helping the association by offering it the use of desks and information technology equipment. The local radio, Radio 4, offers a medium for calling for donations during its commercial breaks.