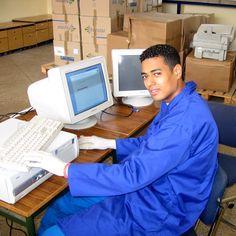 Social and Employment
Place
Tanger and Salé, Morocco
Sponsor
Imane El Hatimi
Grant(s)
30,000 € to the Selection Committee at 2006/01/31
  Project leader ASF (Ateliers sans frontières Maroc)
Despite the State's goal-oriented policy, the mobilization of the private sector and civil society, Morocco remains substantially underequipped in terms of information technology. The number of working computers is estimated at about 500 000 for a population of 30 millions, 60% of them under 20. This true digital gap prevents this very young population from enjoying access to a fully effective educational system.
Aware of this situation, the association Ateliers sans frontières (created in 2000 in France, and which works in the area of vocational integration by collecting and reconditioning computer hardware and sports equipment) founded in autumn of 2005 its Moroccan counterpart, Ateliers sans frontières Maroc – a Moroccan law structure – to conduct projects aimed to supply this need. Since 2005, ASF Maroc has been developing partnerships with Moroccan project leaders and supports local players who use sports and IT access to promote education and social integration.
Production line
With Moroccan partners, the association Chifae, in Tangier and the NGO Enda Maghreb, in Salé, as well as Microsoft, ASF Maroc is, for example, at the heart of the Microlikoum project (a computer for everyone): the idea was to distribute 1200 IT packs (hardware, software, training and maintenance) in 2006 to a hundred associations. Selected following a call for projects, they will be involved in three areas: prevention and youth education, employment and vocational training, support for civil society.
To distribute and maintain the IT packs, two pilot digital outreach workshops will be created in the heart of the disadvantaged neighborhoods of Tangier and Salé. They will serve as logistic platforms. The creation of these local relays will be entrusted to two local associations accustomed to working in the field and managing training workshops.
This two-pronged approach provides quality equipment to the winning associations while creating jobs and setting up vocational training in the area of IT maintenance. The link with France is also maintained, with ASF providing technical support and transfer of skills.
The beneficiary associations will contribute to the financial effort at the rate of 50 euros per IT pack and 22 euros per printer. Alongside many other co-lenders, the Veolia foundation is participating in this huge project with a 30 000 euro grant. This will be used to install the two logistic platforms of Tangier and Salé.